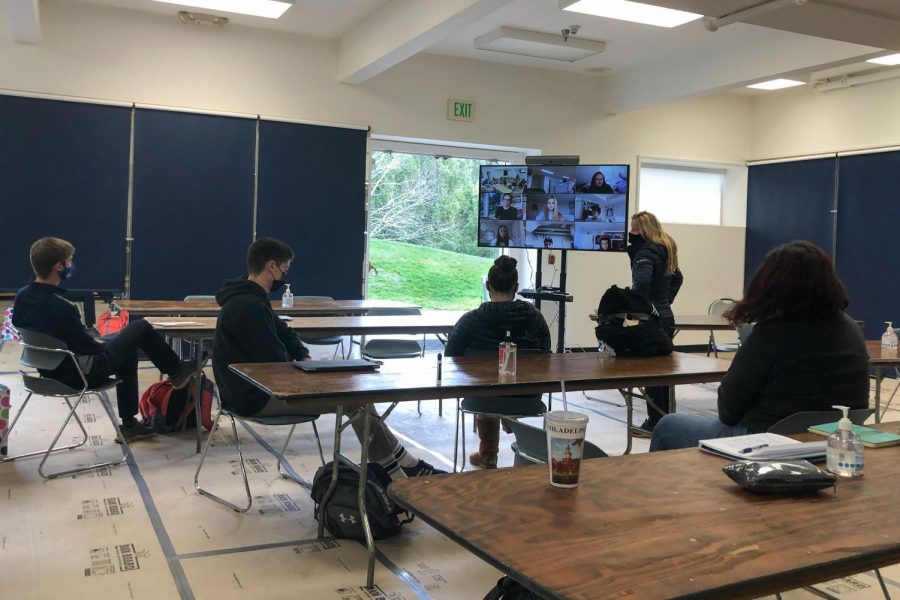 Abby Keenley
When the Jan. 6 Capitol riot shocked the nation, leaving people confused and unable to process the meaning behind this act of violence, the Branson community responded. Something had to be done for students and faculty to make sense of the jumbled emotions in everyone's mind. And so, a plan for the school's riot discussions began to take shape. 
With more than 30 faculty members working together, the planning for this day started with a goal — create a space for the community to openly process and reflect the events in Washington. Director of Studies Chance Sims headed the operation, brainstorming ways for the school to have judgment-free conversations. Frankly, he knew it would be tricky.
"As we were planning for this day, we understood that there were probably some members of the community that had different opinions from the facts," Sims said. "How do we make this feel inclusive so everyone can participate and see an opportunity for their voice to be heard?"
He decided to create a committee devoted to finding that space within this controversial subject. As Sims and his team explored ideas to connect the community, they realized two things needed to be established — a schoolwide special schedule on Friday the 15th for discussion and reflection and a collective understanding of political terms. 
"We needed a common language to talk about what was going on," Sims said. 
With rumors and inaccurate accounts of the riot spreading across the nation, the school turned to the organization team to find relevant terms for the conversations. As part of this group, history teacher Malik Ali helped compile a list of common vocabulary for the community to use during conversations.
"We needed shared definitions of some of the key concepts that have been floating around in the public," he said.
Terms like "fascism" and "sedition" among others were defined in the list of vocabulary related to the riot. Ali understood that "points of commonality" were vital to dive deeper in these types of discussions.
"We have to establish a shared understanding," Ali said. "It gives a greater sense of trust, clarity and transparency."
With a collective political lexicon sorted out, the next step was bringing in a source of shared knowledge. Director of Diversity, Equity and Inclusion JuanCarlos Arauz focused on identifying the right article and facilitation questions for students in addition to making sure that students felt safe to voice their opinions.
"This has been politicized and racially divisive. How do we not set up the white students against the BIPOC students?" Arauz said. "We all have responsibility in this."
Arauz and the organization team chose to highlight anti-racism activist and author Ibram Kendi and his article, "Denial is the Heartbeat of America," to inspire further reflection upon American society. The article describes the history of denial in the United States, especially regarding race in the political world.
In order to address the riot as an issue for not just BIPOC but everyone in the nation, three white faculty members chose to speak out about their experience during the morning assembly. One of the speakers was history teacher Whitney Livermore.
"Too often we put it on the marginalized groups to speak," Livermore said. "I want to model what reflection looks like to invite other people to go through the same process and share their experience." 
After planning and finalizing the details of the special schedule, the faculty and staff hoped to inspire students to continue learning and talking about significant events like this one.
"We have to empower our students," Sims said. "We have an obligation to."