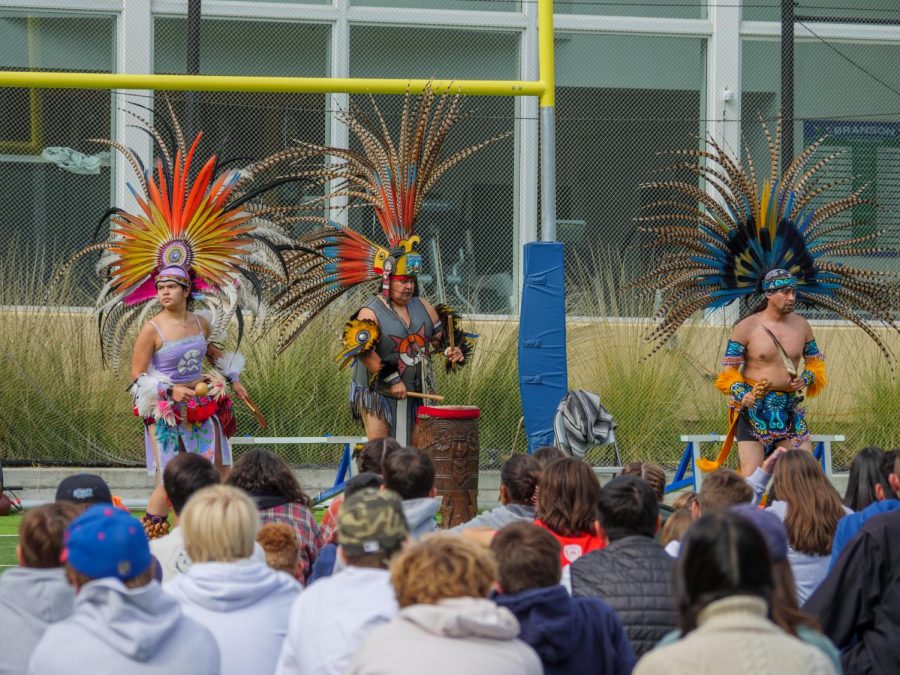 Jeffrey Huang
During a Thursday assembly in October, the whole school gathered on the field to watch the performance of Calpulli Tonalehqueh, a troupe of dancers who practice Aztec traditions and culture in the form of dance.
The event was planned by the Latinx affinity group, which celebrated Latinx culture in a series of fun events during Hispanic Heritage Month, which was October.
"I'm really happy to get to see Latinidad more present on campus, through what the affinity group organized this month," Sabrina Wilson, the dean of student life and an adviser of Latinx affinity group, said. 
"I thought it was amazing, everything about it, including the beauty of the traditional wear, the drumming, the way they processed in, and I felt like our community was attentive and engaged and respectful," Wilson said. "The context they gave about the different kinds of dances and the performance was perfect, because they rooted it in culture, in history, in tradition, but let the movement and the rhythms speak for themselves." 
Along with the Aztec dancers' performance, Latinx planned a few games of Lotería, a game similar to bingo popularized in Mexico during the late 18th century. Students have played it in the quad at lunch. There was also a DJ set performed outside the commons during lunch by Leslye Deleon, a student leader of the Latinx affinity group.
When asked about the organization of these events, Wilson clarified that the credit for the planning should go to the student leaders of Latinx. 
"I had nothing to do with that — honestly the main force behind it has been Paloma, Caroline, Cristina and Leslye deciding what would be fun and what would work best," Wilson said.
"We had done a Lotería game in the Latinx affinity space, and so we thought that would be fun to do with everyone. I'm really happy with what we accomplished because many of these things had never been done before at Branson," Paloma Rincon, one of the student leaders, said. Rincon also said that there were some challenges coming up with ideas because of restrictions around COVID, as well as with planning events people would enjoy and want to participate in. 
Although she believes the celebration of this month is important, Rincon also said that "we should celebrate Latinx heritage every month."
"I don't think I have strong feelings about heritage month because it's really about heritage every day," Wilson said.