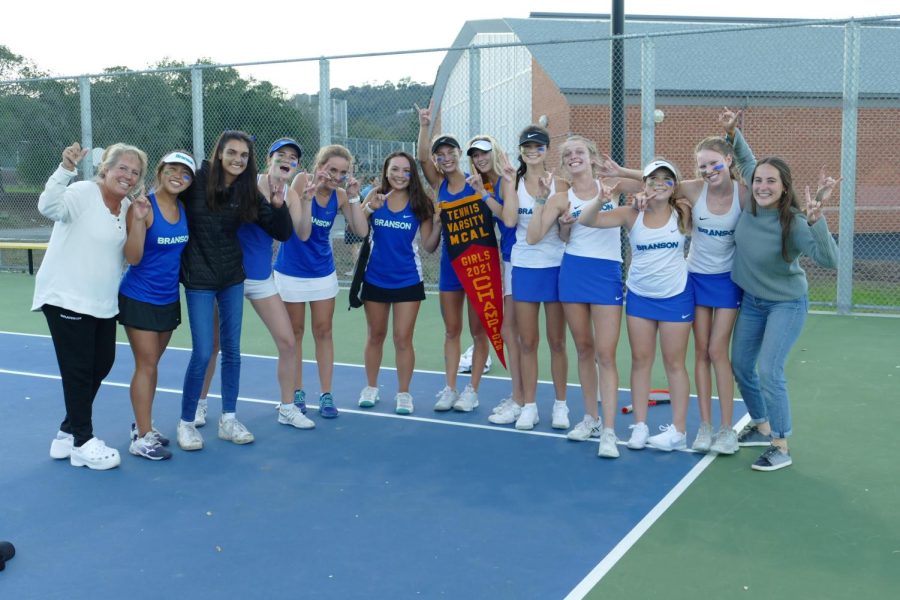 On Nov. 13, the girls varsity tennis team claimed the team NCS championship with a 4-3 victory over Acalanes High School. 
Anna Lardner, a team captain, went on to the NCS singles championship where she completed her senior season as the undefeated D2 NCS singles champion. Reese Dahlgren and Sophie Liu advanced to the doubles NCS championship where they placed fourth overall.
Earlier, on Nov. 2, the team also upset the undefeated Redwood High School team to take home the MCAL championship. 
After losing twice to Redwood in the regular season by scores of 3-4 and 1-6, coaches Chrissie Costamagna and Noelle Anderson implemented a new strategy — stacking. "Stacking" matches is a strategy where the players who usually play singles matches are put in doubles matches to give the team the best shot at winning those matches, which are crucial to victory. Additionally, they relied on Lardner, a senior, to win the number one singles match. The plan worked as the Bulls won all three doubles matches and the No. 1 singles match for a 4-3 victory.
The credit for the new strategy, Lardner said, "was all our coaches. We knew from our past matches with Redwood that using our normal lineup was not going to work against Redwood's deeply talented team, so we decided it was necessary to take a shot in the dark and totally change up our lineup. Our coaches' strategy was brilliant, and because of it we ended a historic MCAL season with a win."
The match came down to the wire and captain Molly Biggs, a senior, said, "I was really nervous because we needed to win the last three matches being played, and it came down to a final set tiebreaker between [Branson's] Audrey Gilmor and Mirabel Arlander versus Redwood's number one doubles pair. I could not believe that we pulled it off, and it was a really amazing event for our senior year because we ended our final season the same way we ended our freshman season—MCAL champions. I really appreciate all the effort our coaches put into the season for us and for the amazing lineup change that led to our victory."
Although the team has three senior captains who will be departing after this year, most of the starting lineup will be returning next year. 
"I think the team worked really hard the whole season, and although Redwood was a really tough opponent, I felt our team was deserving of the win," said Sofia Bobroff, a senior and also a captain. "I think this team has so much potential, and I cannot wait to see how far we go in [Northern California Sectional]. I love all my teammates so much, and I know we are leaving the team in good hands."
The team also had major success in the MCAL individuals tournament with Lardner winning the singles bracket, and doubles teams Dahlgren and Liu and Gilmor and Arlander placing third and fourth, respectively, in the doubles tournament. Lardner also took home the MCAL Player of the Year award, the highest individual honor for MCALs.