Success for Branson's youngest varsity volleyball team ever
The varsity volleyball season has been a highlight for much of the Branson community these past few weeks as they finished their MCAL season against Marin Catholic on Oct. 22.
The team will now play in the NCS Open Division tournament against No. 2 seed Archbishop Mitty on Nov. 10. 
This season "has really sparked my passion, invigorated me in a way that makes me pleasantly surprised," said Michelle Brazil, Branson's varsity volleyball coach. 
The team played Redwood on Oct. 20, putting the crowd on edge after losing the first two sets, only to come back and win in the next three. Two days later, in their playoff match against MC, the team put on yet another show for the spirited Branson crowd. They lost in a tight third set, which placed them in second for MCALs this year.
Senior and captain of the varsity team, Gia Fisher, said her favorite game "was definitely the MCAL semi-finals against Redwood. That was probably the most memorable game I've played in my entire life."
Branson's supportive fans filled the stands in an all-blue theme for the finals. The large turnout of supporters "really does make a huge difference," Brazil said. "Having the crowd's support helps motivate and push our players over the edge [to play their best]." 
Cheers led by spirit captains Anna Lardner and Aydin Ulubay contributed largely to the environment created in these games. 
"We are such a small school so it is great to get so many people to come and support the game. It really brightens up the gym and makes the game that much more fun to be able to share with the community," said Cayman Stein, who is on the varsity team.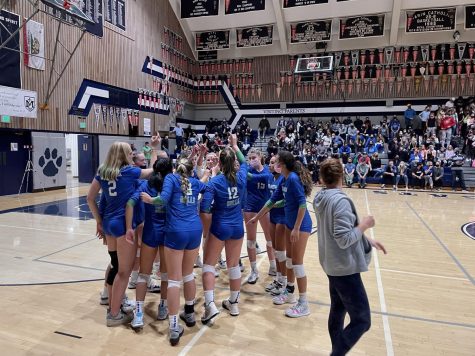 On top of the large turnouts at many games, this season has another special aspect because of how young many of the players are. Expectations at the beginning of the season were uncertain after the team lost two players who graduated in 2020. 
"Coming into the season, I had no expectation to be as good as we have been this year," Fisher said. "We have a ton of new and young players on the team." 
This year, varsity "consists of four upperclassmen and eight underclassmen, which has created a very different yet exciting dynamic among the team," Brazil said. The young team's skill and ability this season has shocked both the players and coaches as Brazil said that "this is the youngest team I've ever had." 
"I didn't expect our season to be this successful," Stein said, "but I have been so thrilled with how we have done and how well we have bonded and worked together as a team."