'Chicago': A review in pictures
"Chicago," Branson's 2021 fall musical, premiered last week with shows on Thursday, Friday and Saturday. With a hearty ensemble and every grade represented, the Branson community showed up fantastically; both Friday and Saturday night performances were sold out. 
After an online fall cabaret last year, actors and audience members alike were eager to experience a live show. This year's musical cast included eight seniors, two of which were stage managers. For most of them, this performance was their last on the Branson stage.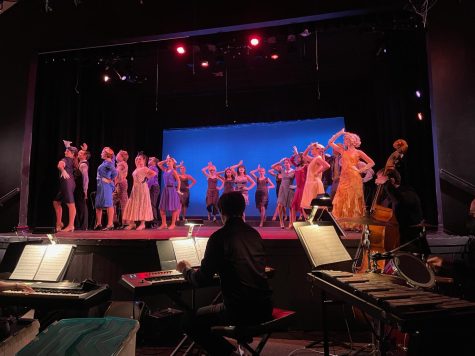 "All That Jazz"
"Chicago" opened with a bang. The first musical number and one of the most iconic, "All That Jazz," showcased the entire ensemble's singing and dancing, led by Hayley Yoslov as Velma Kelly. It also featured a mini-scene that became the premise of the musical;  Roxie Hart (Lucille Rieke) and Fred Casely's (Will Bollini) affair is introduced — then Roxie murders Fred.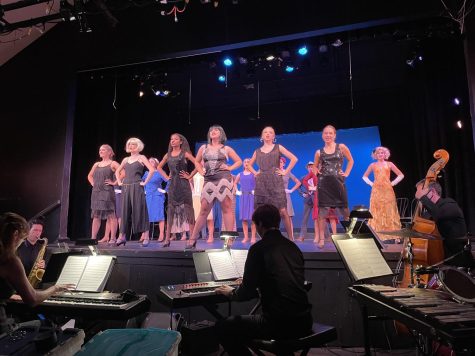 "Cell Block Tango"
Bollini returned from the dead to play each of the six Merry Murderess' husbands. These Merry Murderesses (Cici Dedyo, Madison Esrey, Tara Curtin, Hayley Yoslov, Adeline Johnson, Natalie Wendt) reenact how and why they killed their husbands, each with a witty and hilarious catchphrase. Bollini falls dramatically on the floor each time he is killed to the audience's amusement. But the star of this number was the dancing, with the ensemble's strong, supporting motions to the time of the music, and the Merry Murderesses themselves making use of six chairs.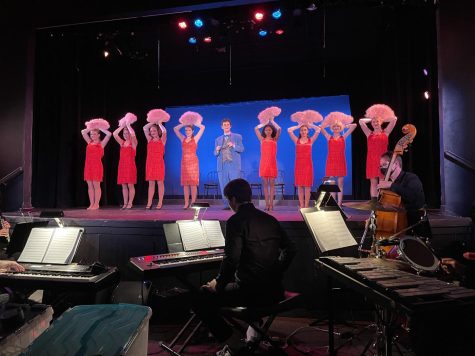 "All I Care About Is Love"
The Merry Murderesses are back — but not really. The actresses who played them return for this musical number in bright-red flapper dresses and waving around fluffy fans. They lend their dancing support to Mr. Billy Flynn, played by Justin Slayen. With killer vocals and smooth, low notes, Slayen wowed the audience in "All I Care About Is Love." He emulated Flynn fantastically, capturing his charming and self-absorbed personality.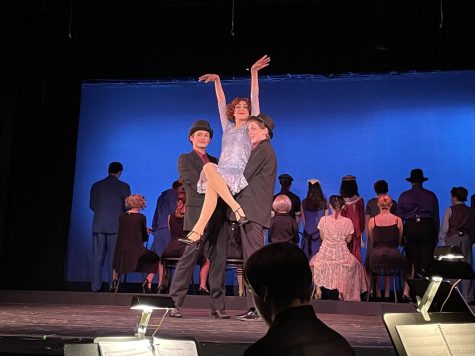 "Roxie"
Lucille Rieke's Roxie poured her heart out into this song, where she expressed her deep desire to be famous that comes true because she murdered Fred. This extravagant musical number featured Rieke's strong voice and dancing, with ensemble dancers and physical support (in this case, a lift) from Will Tolmie and Bollini.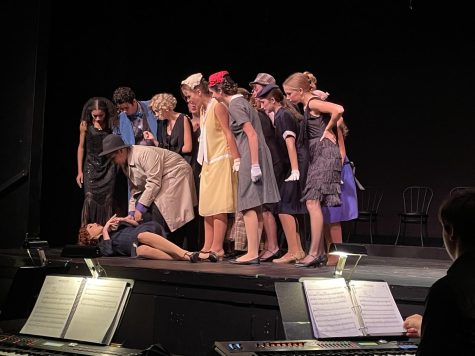 "My Own Best Friend / Act One Finale"
At the end of Act I, the final music number, "My Own Best Friend," ended dramatically, when *spoiler alert* Roxie announced she was pregnant and collapsed to the ground. The scene and Act One closed with this jaw-dropper, the lights dimming and fading to black amidst the audience's cheers.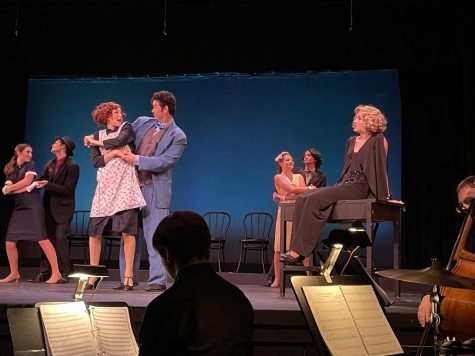 "Me and My Baby"
Without an intermission, the previous scene transitions right into Act II. Yoslov's Velma belted out a solo ballad, "I Know a Girl," beautifully. In stark contrast, the following musical number was bright, loud, and vivacious. "Me and My Baby" starred Rieke and Slayen and spotlighted partner-dancing with them and two other pairs of dancers. Bella Balmaseda, as Mama Morton, had made her "Chicago" debut in Act I in her own music number, "When You're Good to Mama." In this number, she lent a sophisticated, unhurried air while lounging on her desk and singing. Balmaseda played this character especially well, effectively capturing Mama's surface-level charm while still letting her character's corruption and greed shine through.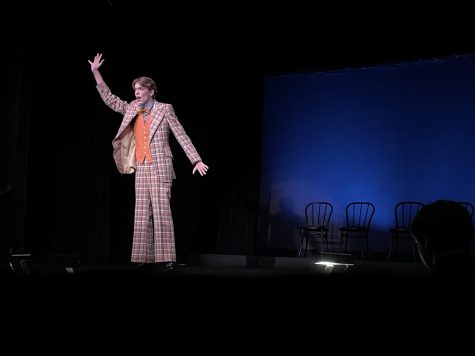 "Mister Cellophane"
In one of the best solo numbers of the show, Tolmie elicited the audience's sympathy for his role as Amos, Roxie's husband, with "Mister Cellophane." Tolmie's vocals were on point, but the real star of this performance was his facial expressions. With a permanent shock etched on his face, Tolmie expressed Amos' deep hurt at his wife's betrayal as well as his desire to feel seen. Throughout the musical, Roxie walked all over him, even getting him to take the blame for her murder of Fred, and took him for granted. Completely in character, Tolmie sighed and told the audience at the end: "I hope I didn't take up too much of your time," and walked out.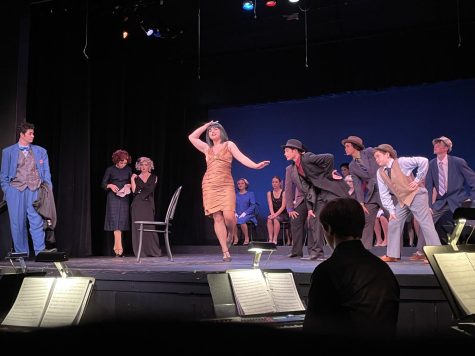 "When Velma Takes the Stand"
Yoslov's Velma imagined how her courtroom trial would play out down to the tiniest detail — silver shoes with rhinestone buckles. This number showcased the dancers' musicality and sharpness of movement.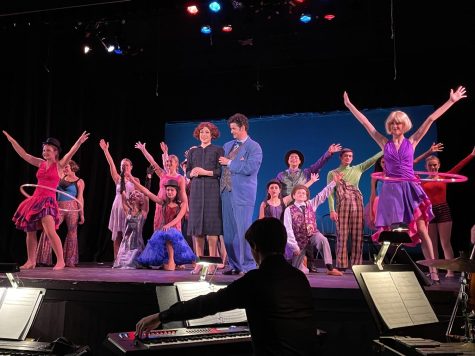 "Razzle Dazzle"
Slayen starred in another strong performance, this one even bigger and brighter than the last. For "Razzle Dazzle," Slayen's Billy Flynn was accompanied by Rieke's Roxie and employed the entire ensemble in exuberant costumes. With flamboyance and style for days to come, this musical number wowed the entire audience and elicited abundant applause.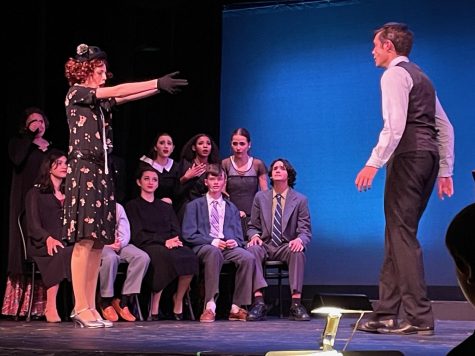 "The Courtroom"
Without relying on music or songs to carry this scene, the cast members had to present powerful acting. Ensemble members, sitting stage right as onlookers, were witnesses to Roxie's trial, and her version of the story of the murder. Rieke's Roxie reenacted the scene with Bollini's Fred, but changed the story, exclaiming, "We both reached for the gun!" to plead self-defense. Rieke and Bollini stared each other down as Rieke mimed a gun in her hand, waiting a couple seconds. She then shot him three times, one after the other, and each time he staggered back before collapsing to the ground.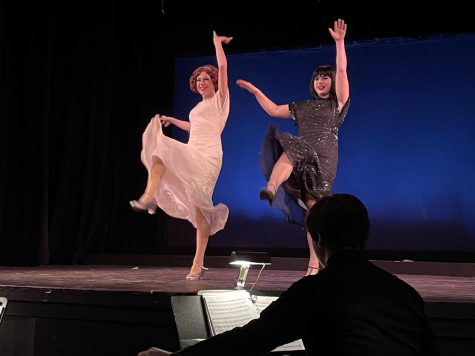 "Hot Honey Rag"
After Roxie was exonerated, she expected fame. However, fame was fickle and the press quickly moved on. In order to be a dancer in Vaudeville, she teamed up with Velma, and together they performed "Hot Honey Rag." Yoslov and Rieke show off their dancing skills with flapper-esque movements, characteristic of the 1920s. In an artistic move on costume director Lily Maloney's part, Roxie and Velma wore the same dress in white and black, respectively, which emphasized their character differences.
"Act Two Finale"
The whole cast joined Rieke and Yoslov for the Act Two Finale, a grand musical number to close out the show. Actors and audience members alike were smiling, laughing, and cheering enthusiastically as the Friday night performance of "Chicago" came to a close.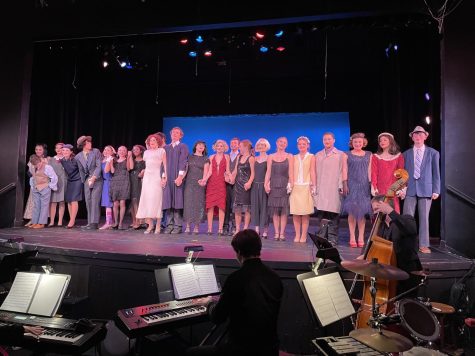 "Final Bows"
The cast of "Chicago" stood together onstage after they had all taken their bows. Grasping hands and smiling broadly, they waved to the audience before the stage lights darkened, and the show was over.
If you want to learn more about the process and making of "Chicago," check out the "Chicago: Lights, camera, action!" article.