Tables removed, eating restricted in omicron-era commons
Because of rising omicron cases, Branson's lunch procedure has changed. The usually busy commons, filled with many students gathered around tables, chatting and laughing, is now empty, and everyone has been moved outside.
"Eating inside was promoting the conglomeration of large numbers of people in very, very close quarters," said Justin Culley, Branson's safety director.
The new lunch procedures say people can still eat at tables together, but eating is restricted to outside. The likelihood of viral transmission outside is vastly reduced compared to indoors.
These practices keep the Branson community in alignment with the best practices and "recommendations within the CDC, and that's why we do it," Culley said.
Besides the new eating arrangement, masking has played a major role in the safety of the Branson community. Before the January masking update, the commons had been considered an outdoor space, with masking not required. But after the updated masking guidelines, the commons became an indoor space, with masking now required.
"I see everyone wearing masks when they are getting lunch, and I think the student body has done a great job holding themselves accountable to the new mask mandate," Ali Evans, a freshman, said.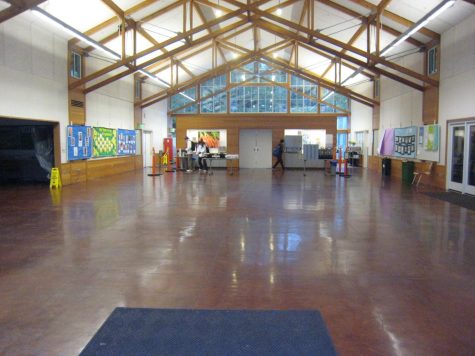 All of these factors and precautions are creating a much safer environment for the community, allowing students to carry on with other aspects of our student life, school officials said.
Hopefully students will be able to return to the bustling, fun commons soon, but safety takes priority. 
Branson is "certainly going to advocate for continuing this until such time as we hear from our public health officials in Marin," Culley said.
When COVID cases decline at Branson, the discussions of moving the furniture back into the commons will resume.
However, based on the current estimates from the CDC and public health officials, that current peak is going to be sometime later in January. 
"There's going to be a lag in the residual number of cases and hospitalizations, perhaps in early February, so we probably won't even have a conversation until we get closer to the Presidents Day break," Culley said.