Green goals grow with planned solar panels, charging stations
In an effort to become more eco-friendly, cost-efficient and better prepared for emergencies, Branson will install solar panels on the gym roof this year as part of a two-part project. And the second part of the project will see the installation of electric vehicle charging stations in the back parking lot.
The school will undertake the projects amid previous efforts to expand solar power — but also after setbacks during the pandemic.
A donor has offered to fund the entire solar project in an agreement by which Branson will lease the panels for six years and then assume ownership from then on. The donor requested that the total cost of the project remain undisclosed for anonymity.
One major benefit of the solar project is the long-term savings on electrical cost. Projected annual savings on electricity are $26,500, according to Branson's 2021 Gym Roof Solar Project Summary.
"The estimate is that those solar panels will totally cover the [electrical] cost for the gym and the commons — two of our biggest buildings on campus," said David Hanson, Branson's chief financial and operating officer.
The solar panels have a long lifespan and have a 20- to 25-year warranty, according to the Project Summary.
"Even though we have to pay off [some of] the cost, it was such a good and smart deal that of course we were going to accept it," Head of School Chris Mazzola said.
Branson originally planned to install the solar panels over the December break but did not obtain the permits in time.
"We now have the building permit [for the solar panels], and we're waiting for the lease agreement to get everything coordinated with the donor, and once that's ready we'll be able to start the project," Hanson said.
The estimated timeline aims for construction to take place during spring break in April for a span of two to three weeks. However, if that does not happen, the entire project will be completed by the beginning of next school year.
"The hope is for spring break; otherwise it will get pushed until summer," Hanson said. "It would be fairly disruptive to do it while [all the students] are in school because of the equipment and space."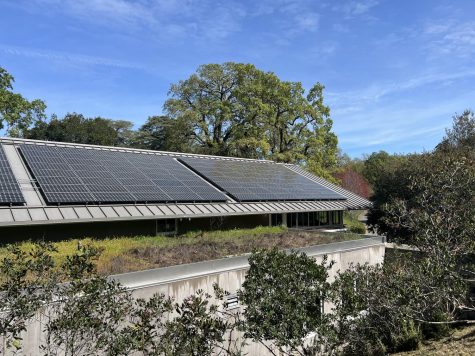 Branson's goal is to have power redundancy for the commons, which is the most important building to maintain power because the kitchen facilities are located there. In other words, solar panels will help create additional power in case of an emergency.
"In the event of a power outage, we need to keep [the commons] open to feed the students and have a normal school day," Hanson said.
Not only are solar panels financially beneficial, but they also provide a visible educational asset. Students, faculty, parents and visitors alike can all see the solar panels on top of the gym.
"The more we can do projects like this that are very visible — that people can see, touch and feel — gives an educational benefit," Hanson said. "Everything we can do to be a greener campus is heading us in the right direction. These projects are very visible."
If a power outage were to happen right now without the solar panels in place, the commons would go offline. The refrigerators would not work, food would spoil and it would be very financially detrimental.
"In a true emergency situation, we also want to partner with the town so that if we had to transform the commons into a shelter or a place to hand out food, water or blankets, it could become a resource to the greater community," Hanson added.
The electric vehicle component of the project is built into Branson's budget and is scheduled to commence on July 1, when the new fiscal year begins.
"We have the funding in place, and we just have to finalize the designs with the town," Hanson said.
Though the school has not secured permits for the chargers, Hanson sees no issues in obtaining them. And while the electric vehicle charging stations will not benefit Branson financially, they are part of a growing initiative to keep the school green.
"For the electric vehicle chargers, the first phase will have five charging spots, but with the infrastructure and power brought to them we can easily add quite a few more," said David Schneider, Branson's director of facilities. 
Branson is progressing toward being more environmentally conscious.
"For a long time it has been Branson's goal to become a more sustainable institution in terms of what resources we are using that we could use better," Mazzola said. "Solar is a no-brainer here because we've got big buildings and lots of sun."
Solar panels do exist already on the gym roof, albeit in small numbers. Green initiatives have taken place at Branson and continue to proliferate. For example, the Branson commons, constructed in 2008, is a LEED Platinum certified building. 
It "features many sustainable strategies, including a living roof, radiant heating, natural ventilation, photovoltaic panels and previous paving," according to a commendation by The American Institute of Architects, East Bay.
"
The question is, what is Branson doing to be responsible stewards of the environment? A lot of people would say that it is not enough."
— Chris Mazzola
Other current and future green initiatives include: installing automatic-shutoff light bulbs as new light bulbs are needed, the expansion of the organic garden and plans to replace older buildings in the next 10-15 years.
"We have a lot of old buildings and deferred maintenance around [the school], and I think anything we do, even if it's more expensive, should be with an eye to making sure it's environmentally sustainable and responsible," Mazzola said.
An expert also assessed whether to install water flow meters to reduce water usage, lock in prices of natural gas and look at electrical usage, as well as the rates at which the school uses these resources.
"Those [background projects] are really helpful projects for cost reduction, but they aren't super visible," Hanson said.
COVID-19 has stalled many initiatives for the school as a whole, and environmental improvements have been put on hold for the last two years.
"The question is, what is Branson doing to be responsible stewards of the environment? A lot of people would say that it is not enough," Mazzola said.
While environmental sustainability has been more sporadic in the past, Mazzola, who said the school's next strategic plan would include more about sustainability, supports a more unified approach.
"As the leader of the school, I have to be the one to spearhead the efforts in a coordinated, organized and affordable way," Mazzola said. "I will have a group of folks who will come up with a sustainability plan for the school. It needs to be a priority."