Branson celebrates Holi, first time in years
On Friday, March 18, the Branson community celebrated Holi, the Indian festival of color and light. AIMES, the Alliance of Indian and Middle Eastern Students, organized this celebration for the last hour of school.
Students, faculty and staff first learned about the history of Holi after gathering in the gym for an informational assembly.
"Holi dates back to ancient Hinduism and symbolizes the victory of one of the prominent Indian deities, Lord Vishnu, over an evil being who tried to kill his son," Simran Baveja, a leader of AIMES, said. "Lord Vishnu was summoned to save his son, and this festival celebrates that victory. [Holi] marks the start of spring and symbolizes forgiveness and new beginnings, like what spring represents in a lot of other cultures, like rebirth."
"
We want them to understand why it matters, and why we're doing this, and why we feel like it's a thing that is important to us—what the colors and what the fun symbolize."
— Simran Baveja
Baveja and AIMES have had to navigate the challenges of bringing this tradition to Branson in a way that is both engaging for the community and faithful to the historical and cultural roots of Holi.
"We definitely want [Holi] to be fun. But I also think there's a lot of learning and culture that makes this important to us," Baveja said. "It's not just a thing where we all just get together and throw colors at each other. It's more than that, and there's a reason we do it, and there's a reason why it's so important to people beyond it just being like a fun thing to do. We've been working for a really long time and working really hard … We want them to understand why it matters, and why we're doing this, and why we feel like it's a thing that is important to us — what the colors and what the fun symbolize." 
Next, Baveja and the other leaders of AIMES described how the vivid festival is traditionally celebrated.
"It is known as the festival of color because people gather in the streets and throw colored powder at each other and put it on each other's face — sometimes they do balloons with colored water — and then after those colorful festivities end and people clean up, they will all gather in the homes of friends and family and just spend time with their family. Family is really, really big in a lot of South Asian cultures, especially in India," Baveja said. "And also, in the spirit of forgiveness, they also might visit people that they don't normally talk to or that they have wronged in the past or been wronged by and work through that."
Holi holds special significance for Baveja, who has wanted to participate in the large and vibrant festival for years now.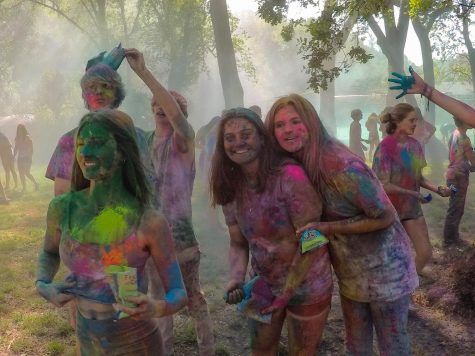 "Holi, especially this year, means a lot to me. My mom really loved Holi growing up in India, and it's never been something that we got to do in the same way here. We would gather sometimes with the little extended family that we have in the US or in California and do a little bit of a celebration, but we were never really able to do the color festival or have this big and vibrant festival like my mom always had growing up," Baveja said. "It's always been a thing that's important to me, to connect with life in America, being the first generation of my family to be born [here]. It's always been important to me to hold that and celebrate the culture that I do come from. So having this festival [is something] that's really fun, and not being able to celebrate that [previously] has been really sad."
Baveja shared her gratitude to Branson and fellow leaders of AIMES in making Holi at Branson possible, not only this year but hopefully as a tradition that stays with the school long after she graduates.
"I think that Branson has really given us the opportunity to bring that here. Starting AIMES with my brother and the other leaders — it finally gave us the opportunity to do that, and that was also taken from us by COVID. It means a lot to me, and this year especially I think it is really important. We put a lot of work into it. … It really holds special significance to me in that I really wanted to be able to experience it on this scale and in this way," Baveja said.
With the help of SLAB, the Student Life Advisory Board, Baveja and AIMES were able to bring the joy and celebration of Holi to the broader Branson community.
"I kind of leave all of the decisions up to [AIMES], and I'm just more of the behind-the-scenes person who writes the proposal," Will Bollini, a leader of SLAB, said. "We wrote a proposal up with Sabrina [Wilson]; she looked at it [and] created an Amazon shopping cart. … It was pretty simple: Sabrina made it really easy for us just because I think she also wanted to add to our student life events at Branson."
Bollini and SLAB ran the logistics side of planning for Holi, taking the hopes and suggestions that AIMES had and making them a reality.
"[Bollini] has been kind of our liaison. There's a lot of stuff that — because none of the AIMES leaders who've been working on this are on SLAB — there's stuff that we didn't even know was possible that we could do. And so when we worked with Will, we were able to get a special schedule and work with the facilities crew to reserve space on Prize Day Field and make sure that everything is running smoothly. For us, it was a lot about the celebration, and we're really grateful to have that help," Baveja said. 
"Branson has not had Holi since 2016. Before the pandemic and schools began to shut down in March of 2020, AIMES had made plans to bring Holi back under the leadership of Maleena Shah, who graduated in 2021. Holi had been planned for 17th of March, but Branson closed its doors on the 13th," Bollini said. 
"I'm very grateful that we get to do it here at Branson and that we've put in all this work to make it happen," Baveja said.