New traffic restrictions face students amid enrollment growth
Branson's enrollment expansion plan over the next four years is coupled with community and transportation restrictions, which were agreed upon and formulated by the Conditional Use Permit (CUP) committee and the Town of Ross.
The incoming freshman class at Branson will have 25 additional students on top of the 80 students currently admitted, so that the class size will be 105 students. Branson's total population four years from now will be 420 students, which will increase the amount of traffic to and from campus.
Branson has agreed upon a list of strategies to remedy the increase in traffic.
"The overall goal is to have net-neutral traffic into and out of Branson compared to the current state," said David Hanson, chief financial and operating officer.
Traffic monitoring took place in 2016, 2018 and 2019 to measure the number of trips by car in and out of campus and found that the daily average number of trips was 860, where a trip to campus counts as one and a trip out of campus counts as another. 
Because of the pandemic, the town has given Branson a 6% buffer to make the limit more reasonable.
"Our daily trip limit is 912 trips in and out of campus [for next year], and we have agreed [with the town of Ross] that we will be at or below that level," Hanson said.
One plan that Branson will implement is remote dropoff and pickup for parents, where at specific times, parents cannot drop off children on campus. From 8:15 a.m. to 9:15 a.m., there will be no parent dropoff allowed. Between 2:45 p.m. and 4:15 p.m., there will be no parent pickup allowed.
Branson is coordinating with St. Anselm's, University of Redlands, College of Marin and the Marin Art and Garden Center to implement remote dropoff locations where students can be shuttled to campus.
"We are working to hire additional shuttle drivers for next year and to buy additional shuttles," Hanson said. "We have to do both. … The challenge right now is buying [new white shuttle vans]. They are not available due to COVID and other supply chain issues."
Branson is working with the company Cartelligent to find new shuttle vans for next year.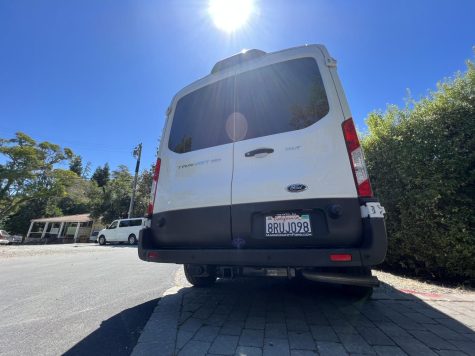 "We are tracking down, in any way we can, to buy new ones or used ones. It doesn't matter," Hanson said.
Branson is also required to have at least three traffic monitors in the streets surrounding the school in both the morning and afternoon.
To monitor the number of vehicle trips that take place in a given day to and from Branson, there will be a pneumatic strip that will detect when a car drives over it both in the front of Branson by the gate and in front of the back parking lot.
"There will be 30 days of data [collected] twice a year, and for that 60 days of data the average trip count has to be 912 or less," said Hanson. "If [the requirement is not met], we will not get our next tranche of 25 new students." 
The monitoring period will not include weekends, breaks, or non-school days, according to the Board of Trustees Meeting Summary.
The penalties for failing to comply with the agreed-upon daily trip limit after Branson has reached a total enrollment of 420 students (i.e., after four years) will include a reduction of students admitted each year, as well as fines of $100,000.
E-bikes will continue to be offered to combat traffic increase. Branson is keeping the incentive program of $750 for people who commit to using an e-bike for 75% of their commute. Additionally, free servicing and maintenance will be offered at school in partnership with Mike's Bikes.
Further, less impactful restrictions that are part of the Transportation Program include no athletic events on Sundays, no more than 10 events per year outside with amplified sound and limits on how late events can go into the night.
Hanson shared his thoughts on how students can contribute. If traffic counts are well below the limit given by the Town of Ross, Branson will revise some of the regulations.
"We are really going to depend on … student and parent partnership for next year, and it's going to be new for all of us," Hanson said. "We are counting on you. We want to make sure we have student involvement at every step because we will have to make tweaks."