Strong start to season for girls varsity tennis
Branson's girls varsity tennis team has had a successful start to its season this year after winning its first four matches.
After claiming its championship title last year, winning both MCAL and NCS, the team looks at yet another victorious season.
"The team is currently undefeated and everyone's playing super well, so we're really excited to see where this season goes," assistant coach Drew Mathieson said.
Excitement is running high as the competition increases in the next few weeks after the recent victories. Recent highlights include a 7-0 victory against Novato Aug. 30. 
"Redwood is definitely our biggest competitor, but if we pull through, it would be really great to win again and have back-to-back victories," said Anna Rende, who plays number one singles.
This year, the team split up into separate JV and varsity teams, owing to the already large team from last year and an increased number of freshmen.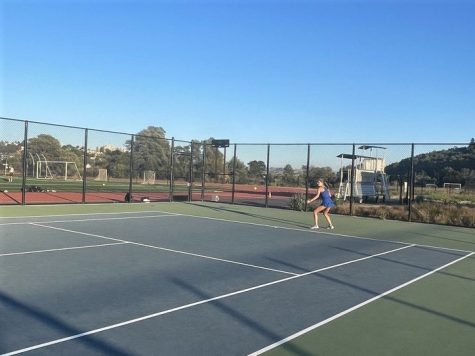 "The JV team is a great addition for girls tennis because it allows each skill level to get the coaching that they need," said Alexandra Zak, varsity team captain. "Then everyone can improve and more people are able to play in matches."
The split especially benefits "players who are new to the sport," varsity player Tara Sridharan said.
"It gives them an opportunity to play in matches more, because last year as just a varsity team, only a few select people were able to participate each week," she added.
Varsity tennis had another addition this year after they welcomed Mathieson as the assistant head coach. 
"Mr. Math is amazing. He has already taught me so much about the sport and is both supportive and friendly to the players," said Saylor Mullarkey, a member of the varsity team.
Mathieson has been integrated right into the heart of the tennis community and enjoyed the past few weeks being a part of the team. 
"I love it so far," he said. "It's been a blast just being back on the court playing for Branson again."