Mitty defeats Bulls varsity volleyball in tight 4-set rematch
It began the strongest of any game this season, but Archbishop Mitty ultimately defeated Branson in a 4-set game Saturday morning.
The brisk first set, 25-15, marked girls varsity volleyball's best start yet. Failed attacks by San Jose's Mitty, plus digs by libero Lauren Dignan and kills by Sadie Snipes and Cayman Stein, pushed the Bulls to a decisive lead. A string of kills by Branson and errors by Mitty ended the set with a double-digit lead by the Bulls.
"We've been starting our practices with a little bit more intensity, whether it's a drill, whether it's a goal, and just making things a little bit more challenging to overcome, so that they're used to getting on the court and just bringing it right away," coach Michelle Brazil said.
The rest of the game — 25-19, 25-17, 25-19 — saw Mitty recalibrate its defense and sharpen its attack. Branson led the second set, with a kill from Eva Lacy and several from Snipes, until a 17-17 tie. Mitty pulled ahead to win that set with a six-point lead.
Not that the intensity ever let up. In the third set, Branson overcame Mitty's lead at the 10-point mark after a quiet at-the-net kill by Margaux Barber. A brutal play-by-play ensued. The Bulls, however, ended up making more errors, dropping the set.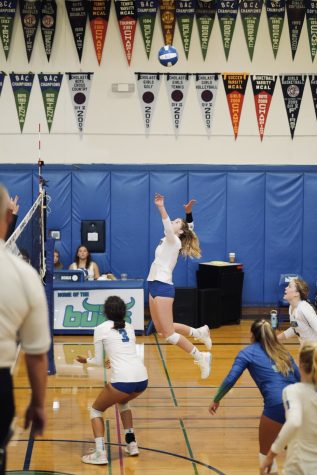 Further kills from Snipes and Elena Fisher kept the fourth set tight, with the lead switching between Branson and Mitty until the final few points. But Mitty had adjusted to the Bulls' style and home court by then, leading to another six-point lead.
"We played a lot better today than we did against Monte Vista," Eva Lacy said. "But it's always frustrating to lose to a team for the second time that you really wanted to beat."
The team had faced Mitty in a nail-biting, five-set Open Division defeat last year. Yet it also noted improvements from last week's road loss to Monte Vista — take the 25-15 first set, for example, and a display of offensive strengths — and looks forward as league play begins next week.
"From the Monte Vista game to this game, we got so much better," Brazil said. "Was it disappointing? Did we give some points away? Absolutely, but at the same time, I really do feel like we're getting better in the ways that we need to."
But first, Branson (2-2) later today will face Saint Francis (10-0), which Brazil called Northern California's strongest team. Branson has prepared to face down its final non-league opponent, Lacy said.
"We know more about them than they know about us, so I'm excited about it."