Live updates: Varsity defeats Terra Linda in first league game
SAN RAFAEL — Branson girls varsity volleyball defeated Terra Linda in its first MCAL game this season.
The team entered this game with a 2-3 record during non-league play, against Terra Linda (14-4). After Terra Linda, the Bulls will head to Las Vegas for the Durango Fall Classic.
The Blazer provided live updates throughout the game. Read the full game analysis here.
Live updates
Third set: 25-21, Branson wins.
Though Terra Linda began the third set with a lead, a kill by outside hitter Sadie Snipes began another offensive drive by Branson. Additional kills by Elena Fisher, Eva Lacy and Cayman Stein have paced a Terra Linda team that reclaimed its lead midway. A swift setter dump by Logan Tusher marked a highlight midway. Terra Linda adjusted its response to Branson's attack.
Late kills by Snipes and Stein, however, turned the tables again, with Branson back in the lead at the 22-point mark. A dig by Lauren Dignan, an assist by Tusher and then a kill by Snipes sealed off a close Branson victory.
Second set: 25-10, Branson wins.
The second set began with an ace by Sadie Snipes. All the components of a successful offense have come into motion as Terra Linda struggles to return shots. The kills and aces have continued after a timeout fueled by a scoreboard malfunction. Take, for example, Celia Tolmie's setter dump and a kill by Kaitlyn White, a freshman, and a well-oiled offense has so far routed Terra Linda. A few more kills and the Bulls won the set by 15 points.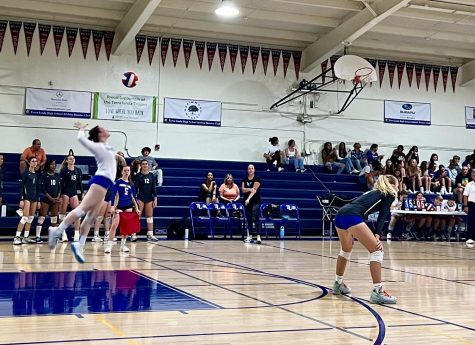 First set: 25-16, Branson wins.
Branson has seen an auspicious start so far in this league opener at Terra Linda. An ace early this set by Elena Fisher, along with errors by Terra Linda, have provided a double-digit lead. The set continued as it started, and the team has put some freshmen on the court; Maya Lehman made two kills. Also notable: Libero Dylan Whisenant made her debut for Branson after transfer regulations barred her from earlier play. The set closed with a kill by Cayman Stein.