Live updates: Branson falls to Marin Catholic in five sets
KENTFIELD — Branson girls varsity volleyball fell to Marin Catholic in a head-to-head matchup between two of Marin's strongest teams.
Marin Catholic (8-3) and Branson (3-3) both return from the Durango Fall Classic in Las Vegas last weekend. The tournament had Marin Catholic qualify for, but fail to win, the bronze division, and Branson clinch the competition division title.
"At this point, all the teams in our league are really good, and any team can beat any team at any given point," setter Logan Tusher said. "It's really just about who's mentally in the game, and really who wants it more, because we're ready to fight for it."
The Blazer provided live updates throughout the game. Read the full game analysis here.
Live updates
Fifth set: 16-14, Marin Catholic wins.
Marin Catholic began the fifth set with a lead, but Elena Fisher made Branson's first point with a kill and the Bulls soon charged past them. A persistent offense has benefited Branson, while Marin Catholic has made more errors. However, the set remains tight, with Marin Catholic reclaiming a lead halfway. If anything has determined a point this game, it's the unforced error. Back-and-forths, whether at the net or at the scoreboard, have continued. Branson moved ahead late during the set with kills from Fisher and Sadie Snipes.
Another kill from Snipes, and Branson again pulled ahead at 13 points. Then Marin Catholic returned to tie the point. The crowd hasn't been louder as the game sat at a nail-biter. A missed shot by Marin Catholic pushed Branson ahead again, and then another by Branson. Marin Catholic hits 15 points, then a missed shot by Branson has Marin Catholic winning the set.
Fourth set: 25-19, Branson wins.
Eva Lacy gave Branson the first two points this set with a series of blocks. Margaux Barber followed with a kill. Yet Marin Catholic came back to cut the Bulls' early lead. No matter. Branson has regrouped its defense after the third set and adjusted for a more dynamic offense. An ace by Elena Fisher and a setter dump by Logan Tusher pushed Branson further ahead as Marin Catholic suffered from errors. The Bulls' offense paced Marin Catholic midway, with a kill from Cayman Stein.
A kill by Fisher averted Marin Catholic's attempt to get a lead. Then a kill by Sadie Snipes pushed the Bulls further ahead. Branson's refreshed offense has kept it ahead this set, and this time, Marin Catholic has made more errors, with one ending the set. On to the fifth set, the longest a game has gone this season.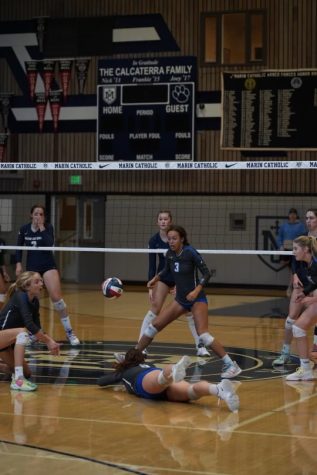 Third set: 25-12, Marin Catholic wins.
The third set started slow with some errors at the net by Branson. Elena Fisher made two early kills, shrinking Marin Catholic's lead. A kill by Logan Tusher paced Marin Catholic as the set grew tight. But a few more errors set the Bulls back midway. Missed shots gave Marin Catholic a double-digit lead as the end of the set neared. And Marin Catholic has met Branson with a string of kills and an attack that has tested Branson's defense.
A late block by Margaux Barber didn't make up for Marin Catholic's lead.
Second set: 25-22, Branson wins.
Two kills from Eva Lacy early in the set started another tight game. Branson has attacked with a strong offense, but Marin Catholic has made some sly shots that hit the hardwood at the net. Libero Lauren Dignan made an ace and Sadie Snipes made a kill as Marin Catholic tried to keep a two-point lead early. Two aces from Dylan Whisenant — shots that Marin Catholic players thought would go out — gave the Bulls a lead at the 14-point mark.
A kill from Elena Fisher kept Branson ahead later in the set, but Marin Catholic responded to tie the set at 19 points. Yet Branson didn't let up its game, edging to a lead again. A kill by Cayman Stein clinched the set.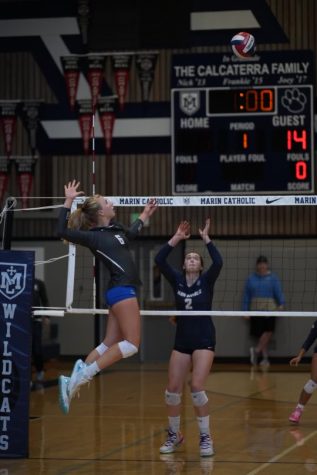 First set: 25-23, Marin Catholic wins.
The first set began with a kill from Branson. But Marin Catholic countered with a strong attack. Logan Tusher and Cayman Stein have made some effective blocks, but Marin Catholic led early during the set. Kills from Eva Lacy and Stein reduced the point deficit midway as Branson ramped up its defense. A vocal crowd on both sides has boosted the energy on an already-exhilarating game. Tied halfway, Margaux Barber and Lacy had further kills as Marin Catholic tried to keep a slight lead.
An ace from Sadie Snipes and a setter dump from Tusher later in the set, but some strong kills from Marin Catholic, kept the set close. After a few errors on both sides, Marin Catholic ended up on top.