Snipes sisters on rivalry: Support, not beef
At the Branson gymnasium Friday, Mara Snipes watched her daughters play, one on each side of the volleyball court.
Call it a rivalry, but beneath the intensity of the girls varsity game, both sisters wanted the best for each other.
"It really is just about hoping everybody plays their best," she said. "That's what they want for each other. That's what they want for each other's teams."
Branson's home game pitted outside hitter Sadie Snipes against Archie Williams' Elsa Snipes, also an outside hitter. The intense matchup — the school had set up extra bleachers to accommodate the crowd — culminated in a three-set Bulls victory, 25-20, 25-15, 25-17. Branson's defense rallied against a strong attack from Archie Williams to ultimately win every set.
With both sisters playing offense, and each contributing multiple kills per set, an athletic rivalry might seem inevitable.
"Most people think that we'd be beefing, talking smack," Elsa Snipes said. "But with me and Sadie, it's more like we both just wish we play well, which I think we both did. Win-win for both of us."
A decade in the making
It all started at a volleyball camp nearly a decade ago, with Elsa Snipes, then 8 years old, and her sister, then 7.
"First day, loved it," she said. "And then just decided to play from then on."
But the opportunity to play each other didn't appear until a few years ago.
"We hadn't played each other, ever, until we got into high school," Sadie Snipes said. "Just being able to see each other on opposite sides of the net is really fun."
Few moments like this remain in the cards. Friday's game marked the only regular-season meet between Archie Williams and Branson. Though they could meet again during playoffs, the game stood as a unique moment.
"It's super special, just because it's her last year here," Sadie Snipes said of her sister, a senior and Division I commit. "It's really fun to see her and play against her before she goes off to college."
Perhaps the rarity of the moment heightens the sense of rivalry. Well, just a "small rivalry," she said.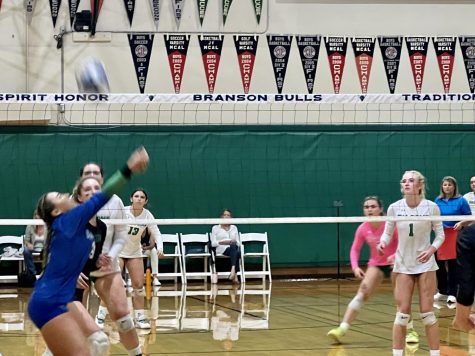 Action on the court
The first set began with Branson in the lead, as a consistent offense and defense delivered. But where Archie Williams won points, it often came at the hands of Elsa Snipes. Her lightning-speed kills, however, also came at the heels of kills by her sister.
Branson won the first set, as it did the next two. In each, however, Elsa Snipes launched a swift attack that kept Archie Williams at pace. The Bulls responded with an attack of their own. During the second set, both sisters made kills in quick succession. Sadie Snipes got the last say; her point at the bottom of the third set clinched the game for Branson.
"She's such a good player that most of our game management is about trying to contain her," Branson coach Michelle Brazil said of Elsa Snipes. "It's just fun when we're talking about how to do that, especially with Sadie on our side."
With both sisters on offense, that meant creating a fluid defense and offense on Branson's side. Libero Lauren Dignan provided digs and setter Logan Tusher received Elsa Snipes' attacks. When the ball did hit the Bulls' hardwood, many times, Snipes had found a way past the Branson defense.
"They're doing what they love," Mara Snipes said of her daughters. "And they're doing it to the best of their ability, and at the highest level they can."
The matchup arrived as Sadie Snipes returned this season from an injury earlier this year. That return — and witnessing it on the court — gave Friday's game the meaning it has for Elsa Snipes.
"Just seeing how well she played and how well she carries herself on the court is inspirational for me as an older sister," she said.
Rivalry, then, takes a back seat to inspiration, even when on the court. Or especially when on the court.
"She was my biggest supporter throughout my entire recovery, and just all the time on and off the court," Sadie Snipes said. "Being able to be in this gym at the same time as her is super fun."
Not that competition doesn't exist. Elsa Snipes had one last thing to say for her sister's team.
"We'll get 'em next time."