Girls varsity golf improves record, looks ahead
Girls varsity golf defeated Tamalpais by a 40-stroke margin Thursday in the wake of their recent MCAL playoff clinch.
The team held an early comfortable stroke lead throughout the match, coach Sara Conti explained.
"I love to see the team hit their stride, always an awesome thing," Conti said. "We are playing really well right now."
Conti attributes the team's success to hard work and dedication.
"The team has a great attitude. They show up and are ready to play."
After a close loss to Redwood earlier in the season, which wiped Branson's clean sheet, the Bulls now seek payback. 
"Right now, our main goal is to beat Redwood on Monday because they are our only loss of the season," Conti said, adding that attitude and focus will be key in next week's rematch.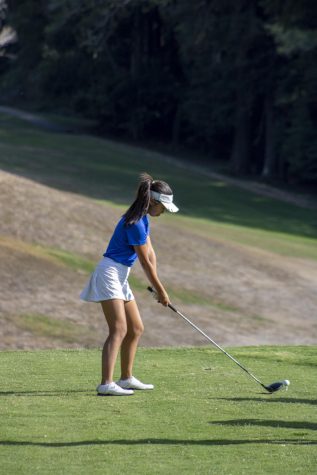 Despite playing a more individual sport, the golfers found motivation while playing on a team.
"Being on a team is really fun," Lizzy Liu, a freshman, said "We are not just playing for ourselves, but for our teammates too."
Having teammates doesn't just help ease the nerves. It also helps to have a second opinion on important decisions.
"We help each other out with lines and distances that we are unsure of," Aimee Yang, a junior, said.
Additionally, the team's upperclassmen want to help the team connect with each other, especially with the newer players.
"We have different groups every round, so you can get to know all your teammates since you're spending a lot of time together," Anna Han, a junior, said.
Looking past the notable Redwood rematch, the team seeks to qualify for the NCS tournament again this year.
"Hopefully we can make NCS this year," Han added. "We definitely have the team to do it."