Offense revs up to secure win for football at home
Branson varsity football fought hard Saturday to continue its four-game winning streak this season. It was the first home game, so there were added nerves and risk. 
Branson, tied for first in its league, won 38-8, never letting spirit or fight die throughout the game. South Fork, ranked third in North Central II league, started on a high and slowly decreased in level, whereas Branson picked up speed as the game progressed.
The first quarter was highly competitive with South Fork putting up a fight. The Branson offense initially struggled with connecting on plays and getting a touchdown. The Branson defense held the team together in those moments and throughout the whole game.
Near the end of the first quarter, Branson scored its first touchdown with a deep pass from  quarterback George Gale and a skilled catch in the end zone by wide receiver Jackson Hoeveler. Branson went for the two points and succeeded with Tom Lardner catching in the end zone, ending the first quarter with an 8-0 Branson lead.
Second quarter offered a hard battle again, but one of South Fork's captains, John Harding, got injured and it had a major effect on the game. 
Throughout the whole game, James Stovell, a sophomore, was a strong force for the Branson offense. He had big shoes to fill, as he was stepping in for Zach Olrich. Stovell scored a critical touchdown, making an amazing catch near the ground. Hoeveler got the two points after making the catch before anyone could get to him.
"My dear friend Zach was out, so I had some big shoes to fill," said Stovell, who scored two touchdowns. "But I just got my mind ready and had to go in."
For the next two quarters Branson kept up the momentum in both offense and defense. Will Schuler and Nathan Kwei stood as a wall for defense, while Tom Lardner and Nick Pfendler powered the offense.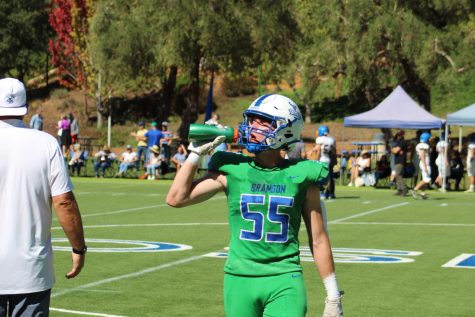 Branson scored two more touchdowns, one again by Stovell, and the other by Gale running the ball to the endzone. In the fourth quarter South Fork scored eight points, but it was too late to catch up to the Bulls. 
Coach Maxwell Pond named the team's leadership — Gale, Olrich, Schuler and Kwei — as responsible for another dub.
"These guys set the tone, hold people accountable and set the right tempo for the young guys," he said.
The Bulls started off slow on offense but gained traction after the first two touchdowns. The defense had to be strong because of this. 
"Offense was a little sloppy first quarter, but defense really held it down all throughout the game," Schuler said. "We laid hits and flew around, just really good stuff from defense."
Winning the first home game required a lot of spirit and strength, Gale said.
"I think some of the guys were a little nervous because you are playing in front of your family and some of your friends," he said. "But it is always fun to play out here and play on this field. We played a lot of games last year here and won them all."