Big day for seniors ends with big win
At home court Wednesday for the last time, the seniors of girls varsity volleyball certainly felt the gravity of the moment.
"Very emotional," Anna Palfy said of the occasion. "I can't believe I won't be here next year. But it was super fun."
And fun it was. After a slow start, Branson stormed ahead of San Rafael by double digits, winning the game 25-23, 25-3, 25-9. Offense and defense combined to create an unstoppable formula on senior night, often led by seniors Palfy, Margaux Barber and Eva Lacy.
The first set saw San Rafael try to pace Branson, scrapping for balls and reducing the Bulls' lead. The MCAL foe ended the set only two points behind Branson. Despite some errors, the Bulls nonetheless assembled some decisive points with digs from libero Palfy, plus three kills from Barber and four from Elena Fisher.
Then Branson had its biggest set win this season. Though San Rafael kept scrapping, the Bulls moved into element. More kills from Barber, Fisher and Cayman Stein, plus aces from Lacy, kept San Rafael from tallying more than three points. And with Palfy often making the crucial digs, the seniors' defense and offense built an indelible dynamic, ending the set 22 points ahead.
That dynamic, of course, built on the four years the seniors have played for Branson.
"We just really balance each other out well," Barber said. "Eva's been super level-headed. She's always made a fun plan, always knows what's going on. Anna's always down for anything: she's like the sunshine of the group. And I think I bring a lot of the energy.
"And altogether, we come together with three great friends on and off the court."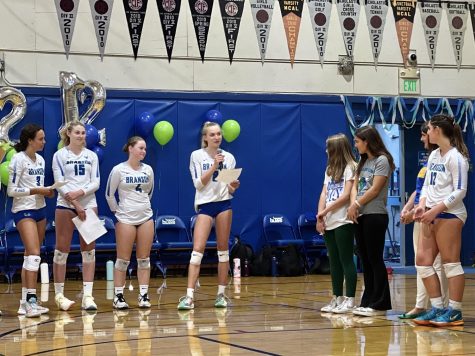 That senior trio maintained the momentum for a strong finish. Errors piled up on San Rafael's side as Palfy kept Branson's defense humming and Barber and Lacy kept up the attack during the third set. Add in some kills from Fisher and Simone Carr, and when the ball made it just over the net for the last time, Branson counted another decisive win.
For the seniors, the game marked the culmination, though not the conclusion, of four roller-coaster years. The COVID-19 pandemic imposed severe restrictions on play and Barber suffered a tibia fracture sophomore year. Throughout those tribulations, however, their bonds kept them going.
"We became super close our freshman year," Lacy said. "I'm sure we would've been friends without volleyball, but I don't think we would've been as close as we are. And our friendship is so strong because of it. I'm going to miss them both so much."
The rest of the team commemorated the trio with a series of posters, speeches and flowers. The gym, festooned in balloons and streamers, glistened ever so brightly for the very special moment.
"What's kept me going is the thought of a senior season," Palfy said. "Getting posters and celebrating with my team has really kept me going."
But the battle for MCAL supremacy this season continues in just two days. Branson travels to first-in-league Redwood on Friday for a momentous face-off. Barber called on the team to play to its fullest.
"Going into it, there's a lot of jitters but also a lot of excitement," she said. "If we stick to what we know and we really execute, we'll come out of it not feeling like we could've done more, not feeling regretful. We'll just really get it all done."