Historic day as Branson defeats Marin Catholic
KENTFIELD — Branson felled a once-mighty rival Wednesday in a historic MCAL semifinal victory against Marin Catholic.
The 25-18, 21-25, 25-16, 25-21 win marked girls varsity volleyball's first victory against the former powerhouse since 2015. A persistent offense combined with a sterling defense to hold back Marin Catholic's middle attack.
"I waited four years for this," said outside hitter Eva Lacy, a senior. "This is the best our team has played, especially as a singular unit. I'm so proud of every single person."
Setter Logan Tusher kicked off the first set with an ace. Then the Bulls' formula kicked into motion, mounting a scrappy defense and meeting Marin Catholic's blocks by moving hitters around.
"When we did get into situations where we couldn't avoid it, going around it was definitely a strategy for us," Tusher said of Marin Catholic's blocks.
Anna Palfy and libero Lauren Dignan made some critical digs to round out a Branson defense that didn't let up, even scrapping for balls that seemed destined for the stands. Branson grew its lead to win the first set by seven points.
More of the same formula continued during the second set, even if Marin Catholic pulled ahead late. Sadie Snipes and Cayman Stein, then Lacy and Margaux Barber, made some critical blocks to hold Marin Catholic back. And Elena Fisher tipped the ball for kills that sent the Bulls' MCAL foe scrambling.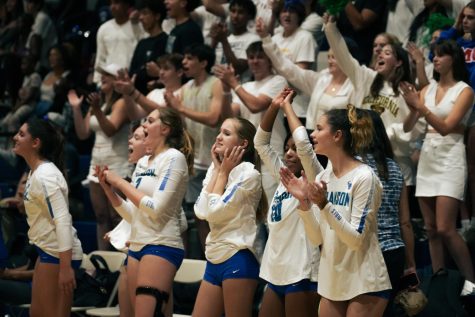 If anything, the strategy deployed in the second set prepared the Bulls to excel during the third. Fisher's kills piled up as Marin Catholic made more unforced errors. And the Kentfield team fumbled to return some balls at the net, giving Branson an additional scoreboard lead, as the Bulls' defense didn't just pace Marin Catholic.
"Our defensive pursuit was absolutely amazing this game," Tusher said. "That was definitely something we talked about a lot."
Errors piled up on Marin Catholic's side during the fourth set. Branson, meanwhile, only ramped up what it had begun. A series of tips from Fisher and Snipes combined with an instinctive defense. When Snipes made her final kill, the ball landed on Marin Catholic's floor, crashing the MCAL rival's league hopes.
For Barber, the Bulls made an "insane" mark on the Marin Catholic court.
"We've been close before; we've tried before," Barber said. "We didn't really change as players — just our mindset shifted. We had a great team dinner before this. We did a lot of bonding. We were all on the same page."
Branson returns to first seed Redwood on Friday for the MCAL finals. Coming off the historic win in Kentfield, that bonding will keep driving the team, Tusher said.
"We wrote it on our wrists in pen: Go all in," she said. "Go all in on everything."
With history rewritten on the Marin Catholic court, the excitement for another MCAL showdown has only grown.
"I know Redwood's going to bring it with the crowd," Lacy said. "But it's a Friday. It's MCAL finals. I could not be more excited."