Branson claims another NCS title in three-set win
Girls varsity volleyball logged another three-set win at home to wrap up its section playoffs with another pennant.
If anything differed in Saturday's final from Branson's last two games in the North Coast Section Division III playoffs, it showed in a sterling offense that adeptly routed University High School. Extensive scouting had provided the basis for a game plan that exploited holes in the San Francisco team's defense for a 25-16, 25-14, 25-16 win.
"A lot of our scouting is how they set up defensively and how we can attack offensively," outside hitter Elena Fisher said.
Tipped-in kills accounted for several points. Fisher, who made seven tips out of 12 total kills, said the tip "created so much chaos" on University's side. From the first set to the last, tips — driven by the pregame homework behind them — left University scrambling for the ball.
"We had a game plan going in to hopefully know what was going to work for us," coach Michelle Brazil said of planning the tip attack.
Combine the tips with an all-around offensive effort, and the Bulls charged ahead early during the first set. With the scoreboard at 16-10, outside hitter Sadie Snipes had already racked up seven kills, two of them tips. And as University struggled to mount an effective block, Branson's tips and spikes kept hitting the hardwood.
University decided the answer to Branson's attack resided in getting scrappy. Its defense picked up to pace Branson early during the second set, and the team scored some at-the-net points. But as the Bulls' NCS foe found, a scrappy defense can save balls, but it must also communicate with an at-the-ready offense.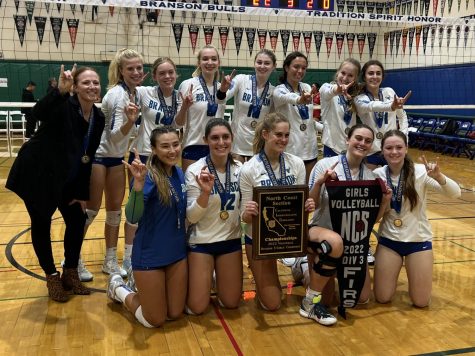 As the set wore on, Branson pulled ahead by surprising University with its attack and ramping up its defense. A stealthy setter dump by Logan Tusher, plus some spikes down the middle by Cayman Stein, put the Bulls squarely in the lead. Near the end of the set, Snipes made three aces in a four-point span. University's defense had regrouped early, but it had not persisted.
"They played really great defense," Snipes said of University. "In the second set, we stepped up our defense and were able to make the rallies last a lot longer and just outlast them."
Despite an early third-set push, University's defensive mettle again waned. That gave way to a series of tips by Fisher and outside hitter Eva Lacy. Despite a few errors early by Branson, the Bulls pulled ahead to a five-point lead halfway. A few more kills by Snipes sealed the deal.
"Our strategy as a team was just to be particular about the spots that we are hitting," she said. "They are good defenders, so focusing on going around them and also staying low air definitely helped us."
Snipes led the Bulls' offense with 16 kills. Libero Lauren Dignan kept the defense humming with 24 digs; Tusher made 12 and Fisher logged 11.
Saturday's NCS pennant marked Branson's third straight win in Division III. Including previous wins in lower divisions — with no title awarded in 2020 because of the pandemic — the Bulls have now won 12 NCS titles since 2009. And after the team's MCAL championship win, Saturday's pennant marked just another highlight of a banner year.
"Especially after MCAL, we just set set up another mini-goal for ourselves," Fisher said. "It's a great feeling."
State athletic officials will reveal the regional championship brackets Sunday afternoon, determining which division Branson will enter; the team made Open Division, the state's highest, last year. And before the first game next week, Brazil called on the team to keep its focus on its side of the net.
"We know we can dig and hit forever," she said after Saturday's game. "It's just a matter of being consistent on our side of the net."