Live updates: Branson defeats Marin Catholic in NorCal showdown
Girls varsity volleyball defeated Marin Catholic Saturday in the Division regional semifinal on the road to state.
The winner will head to Stockton on Tuesday to face No. 3 St. Mary's. No. 5 Branson enters the game — the team's last home matchup — having defeated No. 8 Marin Catholic in the four-set Oct. 19 MCAL semifinal. The Kentfield foe enters today's game having defeated the first seed in four sets, though the Bulls have won all NorCal games so far in three sets.
The Blazer provided live updates throughout the game. Read the full game analysis here.
Live updates
Fourth set: 25-19, Branson wins.
Logan Tusher makes a setter dump for the set's first point. Sadie Snipes spikes in the next, and then another at three points. Elena Fisher spikes in a kill, then Cayman Stein makes another. Fast setting and thunderous spikes have kept powering Branson's lead, with Fisher making a kill at nine points and Snipes at 12. And libero Lauren Dignan made some critical on-the-floor digs. Defense has picked up this set.
Anna Palfy logged a dig and Snipes made another spiked-in kill at 15 points. It's another big day for Snipes, who's led the offense throughout the NorCals and made another kill at 17 points. Marin Catholic has started to see some errors from its right blockers. Eva Lacy jumps for another spiked-in kill from the right. Stein spikes in to boost Branson to an eight-point lead at 23. She counts another at 24.
Marin Catholic makes a service error. Branson advances to the NorCal final.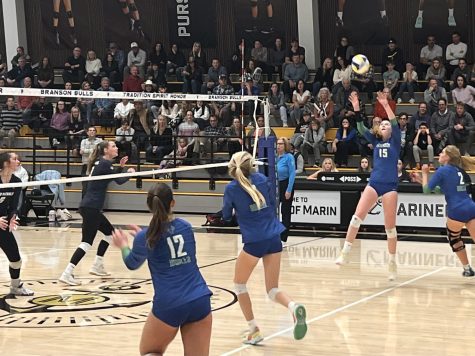 Third set: 25-19, Marin Catholic wins.
Sadie Snipes again spikes in Branson's first point. It's another banner day for the Bulls' offense and the trio of Snipes, Eva Lacy and Cayman Stein. Stein's second kill this set paced Marin Catholic at seven points. And Snipes makes another down the line. But Marin Catholic reclaimed its lead after errors by Branson. Snipes spikes in a kill to make it 12-10, but Marin Catholic claims the next point with a tough block.
Branson's seeing some third-set blues with some defensive errors. Marin Catholic sat at an eight-point lead at 18 points, but outside hitter Elena Fisher spiked in a kill. And Marin Catholic soon made some offensive errors; the Kentfield team's lead narrowed to five points. Dylan Whisenant served an ace, but Marin Catholic kept up its lead. Lacy spikes one in to pace the Bulls. Attack errors by Marin Catholic narrowed its lead to two points.
Stein logs another spiked-in kill. But a few errors by the Bulls later, Marin Catholic wins the set.
Second set: 25-22, Branson wins.
Outside hitter Sadie Snipes spiked in the set's first kill. Logan Tusher made a clever setter dump on the Bulls' next point. Eva Lacy made a kill and Cayman Stein spiked in another Branson's offense leads. Marin Catholic made some offensive errors to boost Branson's lead. Another counted as an ace from Elena Fisher. An impressive rally saw some critical digs by Lauren Dignan and Anna Palfy and a just-over-the net hit by Snipes. Stein spikes in the Bulls' next kill.
Branson has responded to Marin Catholic with the blocking pair of Tusher and Margaux Barber. Some notes on offense: Marin Catholic seems pretty responsive to the Bulls' tips. The key for Branson today lies in spiking over the net at the right angle. Fast setting by Tusher fueled a down-the-line spike by Snipes at 14 points. Snipes tallied another thunder at 15, and Fisher counted one at 16. But Marin Catholic pushes some spikes of its own, taxing Branson's defense.
Fisher spikes in a kill at 18 points. Unforced errors by the Bulls saw Marin Catholic push ahead on the scoreboard. Snipes clapped back with a spike that made it past the blockers at 20. Another Snipes thunder kept the Bulls at pace. After a Marin Catholic side out, Snipes made another spike to push Branson back to a lead. It's just another thunder from Snipes at 24 points.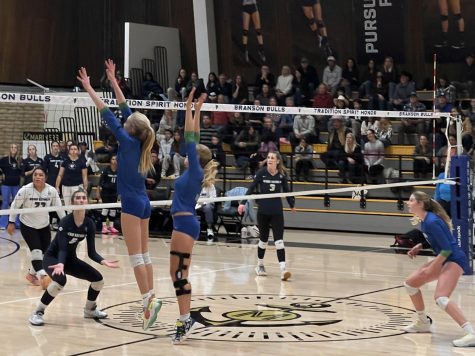 First set: 25-22, Branson wins.
Eva Lacy spiked from the right for Branson's first two points. DS Dylan Whisenant made a critical dig. We're seeing a play-by-play start. Middle hitter Cayman Stein spiked in a kill to pace Marin Catholic early. Outside hitter Sadie Snipes' first kill this game pushed Branson ahead at eight points. But a service error next play again tied the set. Libero Lauren Dignan made some impressive saves that powered Snipes' next kill at nine points. Her third kill pushed Branson ahead at 10 points.
A suave tip by Lacy boosted Branson on the scoreboard. Snipes continued her offensive salvo with a thunder over the net at 12. Snipes made two aces as Branson's lead strode ahead to six points at 16. Outside hitter Elena Fisher tipped in a kill at 18, and Dylan Whisenant made an ace next point. Marin Catholic has seen some blocking success, but Branson has pushed a rallying offense. Lacy spiked in another kill at 20.
Snipes spiked in another kill at 23. Another spike by Snipes clinched the set.