Live updates: Branson wins D-I state championship
ORANGE — Girls varsity volleyball defeated Palos Verdes in the Division I state championship Friday in perhaps Branson's biggest athletic title ever.
The Bulls, the reigning MCAL, North Coast Section Division III and Division I NorCal champions, traveled to Orange County to face Southern California champion Palos Verdes. Branson's D-I NorCal title stood as the team's first ever, and today's game stands as the first time the team has played in a state title game in any division since 2015.
The Blazer provided live updates throughout the game. Read the full game analysis here.
Live updates
Fifth set: 15-13, Branson wins.
Eva Lacy spikes in Branson's first point of the set. Yet Palos Verdes has taxed Branson's defense with tough blocks and attacks. But Elena Fisher hits a shot that has Palos Verdes' blockers hit out. Palos Verdes claps back with a tough shot of its own, but it makes an illegal net touch on the next point. Sadie Snipes spikes in a deep kill, and she makes Branson's next point. Yet Branson has made more defensive errors against Palos Verdes' attack from the left.
Cayman Stein makes a shot down the middle, then Palos Verdes sends its next attack into the net. Fisher thunders in a spike for the Bulls as Branson pulls within a point of its opponent. Stein spikes in another down the middle to tie the scoreboard at 12 points. Fisher blocks a Palos Verdes shot, and Branson leads by a point at 13. Palos Verdes ties the point with a deep kill.
Fisher dunks in the next point for a one-point lead. Branson wins on the next point.
Fourth set: 25-23, Palos Verdes wins.
Elena Fisher spikes in a thunder for the first point. But Palos Verdes nearly recovers from an early lag after some defensive errors by Branson. Margaux Barber blocks a shot to narrow the scoreboard, and a subsequent error by Palos Verdes ties the set at 10 points. Fisher spikes the ball down the line to pace Palos Verdes then finesses a tipped-in kill. We're seeing Branson lose some points at the net with errors.
Palos Verdes has posted some thunderous shots as it sits three points ahead at 19. Branson has hit some recent attacks out as Palos Verdes grows its late lead. But Barber spikes a shot down the middle. Sadie Snipes gets the next point with a block. But Palos Verdes has put up a hard attack from its left. Palos Verdes fumbles its latest point at the net, 24 points, then makes an illegal back row attack. But it clinches the set.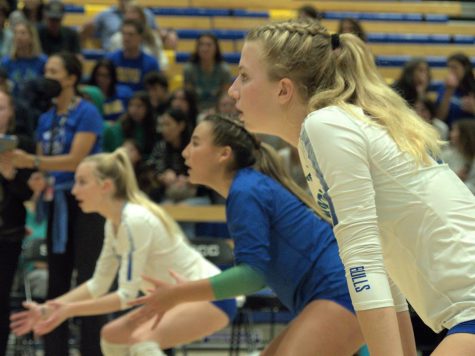 Third set: 25-20, Branson wins.
Right hitter Eva Lacy spikes in the first point. Dylan Whisenant serves an ace as the Bulls pull to an early lead. Palos Verdes has pushed an attack that has challenged Branson's defense, but Sadie Snipes makes a deep spike. She makes another, and it's clear that making deep shots has become key to pushing back against Palos Verdes. Libero Lauren Dignan made a critical save to power Lacy's latest successful spike. Elena Fisher spikes in a thunder to maintain Branson's lead.
Cayman Stein spikes the ball down the middle. Notes on offense: Deep or middle shots have powered some of Branson's biggest points. Add in Fisher's latest spike, and the Branson offense continues to rally. Dignan has also pushed the defense to anticipate Palos Verdes' shots. Snipes makes another down-the-line spike at 21 points. She tips in the next point. Palos Verdes has developed a tough block, but it has seen errors on its attacks. A thunder by Fisher seals the set.
Second set: 26-24, Palos Verdes wins.
Early spikes by Eva Lacy and Cayman Stein have set up the Bulls' rallying offense this set. Sadie Snipes pushes past Palos Verdes' blockers for another point. Snipes spikes one down the line after a long rally. Deep spikes have proved crucial to Branson's offense. Though the set remains tight halfway, Branson's offense and errors by Palos Verdes have kept Branson ahead on the scoreboard. A couple defensive errors later, Palos Verdes pulled ahead by a point after making spikes.
Yet Snipes made another deep spike to even the scoreboard at 16 points, but Palos Verdes gets the next point. The Bulls' defense has faced a challenge from Palos Verdes' outside hitters. We're seeing attack errors from both sides keeping this set a play-by-play. More spikes by Snipes and a tip attack by Fisher have flummoxed Palos Verdes. Yet Palos Verdes wins the set by two points.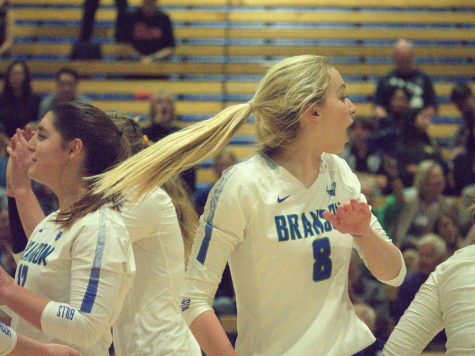 First set: 25-17, Branson wins.
We're seeing some defensive errors early from Branson, but Eva Lacy spikes in a kill from the right. Logan Tusher makes a successful block to pace Palos Verdes. Outside hitter Sadie Snipes evens the scoreboard at five points with a down-the-line spike. Cayman Stein spikes a point down the middle after a great dig by Elena Fisher. Palos Verdes spikes in a kill after fending off a setter dump by Tusher. Snipes pounds in a cross-the-court spike. Errors have defined this play-by-play set so far for both teams.
Fisher spikes a kill down the line to again tie the scoreboard. Snipes pushes one past Palos Verdes' defenders as Branson leads by two points at 14. But Palos Verdes makes the next point. Fisher tips the ball in to keep Branson's lead. Another tip, and it seems like a successful attack against Palos Verdes. Stein spikes down the middle to push the Bulls' lead to six points.
As Branson's defense sharpens, Fisher's spikes have also proved instrumental as Branson makes a decisive lead. Branson soon clinches the first set.