Branson's summer 2022 review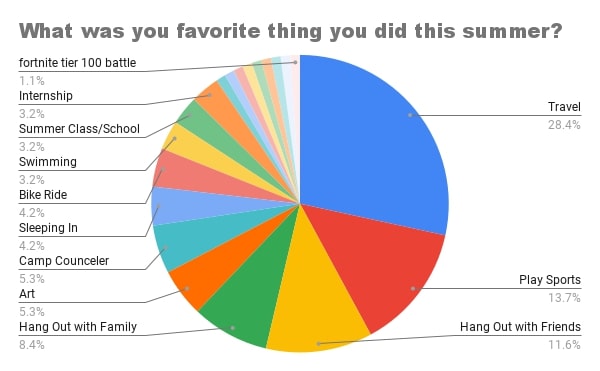 In my opinion, the best things about summer are spending time with those closest to you and having all the time you wish you had during the school year. Branson thinks so, too. I sent a Google Form to all of Branson asking what their favorite part of summer was, and here is the official Branson opinion about what makes the best summer ever. 
Based on the 95 responses to the survey, 41% mentioned friends and family. One person I spoke with said, "I couldn't decide between spending time with friends and spending time with family!" Students who traveled said that they either went with people that were really important to them or people they met who became important. One respondent said, "I loved to travel with my family this summer and had a really fun time doing activities with them." 
The Top 3 activities enjoyed by the Branson community this summer were travel (28.4%), playing sports (13.7%) and hanging out with friends (11.6%). The rest can be seen on the pie cart. 
People had some really funny comments regarding their summer experiences. Though summer jobs were not Branson's favorite, someone did like working "on a pig farm with 120,000 pigs." 
The one that made me laugh the most was: "I got to spend more time with my pillow." Overall, it seems that Branson had an excellent summer; one person even said, "It was just the best summer of my life!"
Branson also went global this summer. Students traveled to five of seven continents! I was jealous of someone who said, "Six weeks were spent by myself in Australia and New Zealand by climbing Sydney Harbor Bridge, cuddling kangaroos and koalas, snorkeling in [and] out [of the] Great Barrier [Reef] and playing with wild dolphins." There are many people in the Branson community who have wonderful stories to tell about their travels. 
It's incredible what we can do when we have a little extra time. It gives people the opportunity to focus on the pursuits that make them truly happy. Someone started running and playing sports again. One person started a website for their baking business. Someone passed Tier 100 on Fortnite. A few respondents said that they had time to work on their painting and art. One such artist used a moment of artist's block to breakthrough and create something that was "truly a beauty to behold." 
So there you have it! The official Branson opinion regarding the best way to spend your summer: travel (if you can) to experience more of the world, spend time with the people closest to you, take advantage of the extra time you have to do the things you love.