Slick defense aids girls soccer in sweep of San Marin
NOVATO — Barely a minute in, Ally Hsieh scored on a penalty kick from the 18-yard box against San Marin. And in the game's final minute, girls varsity soccer located Riley Pearson, who outpaced her defender to score.
Those goals served as bookends to a 3-0 sweep Tuesday at San Marin. Branson, Marin's winningest team, hit the damp pitch with a slick defense and an offense that navigated past its Novato opponent. The team hasn't yet dropped a game, or even a goal, this season.
"We really had to focus on getting our whole body in front of the ball and make sure that the ball stayed in front of us," defender Caitlin Capitolo said.
Eliminating gaps proved crucial to positioning that team. San Marin forward Mia Nettz challenged the Bulls by keeping an eagle eye on the back line. She's been "punishing back lines for simple mistakes, so we knew we couldn't make any," defender Carly Lowe said.
"The whole team needed to work as a group or else they could find the gaps," she added.
That meant Lowe and her fellow defenders had to cover the back with consistency. Stopping San Marin's advances required no gaps and as few mishaps as possible. And for the MCAL's top team, that's exactly what worked to keep the forwards at bay. Lowe adeptly intercepted the ball out of bounds when a forward pushed too far down the line.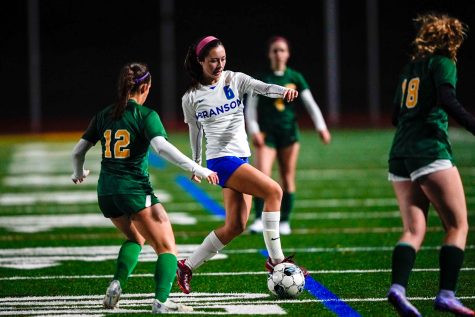 "I'm super proud of the girls in terms of their efforts defensively," coach Tyler Gottschalk said. "The work rate, how smart they are defensively, making good decisions has carried us to this point."
Pearson's point-blank goal concluded a game, and wet conditions, that challenged the offense. San Marin posted a defense that grew more dynamic after halftime, and it took some ingenuity to make a winning shot. Branson's opponent headed the ball more often after the 40-minute mark, and its defenders staked stronger positions.
"When we were breaking lines, instead of our strikers being able to get on the end of it, the ball is running out of bounds over and over again," Gottschalk said. "It was hard tonight to get into a rhythm."
Cat Howell parried in Branson's second score off a corner kick at 47 minutes, swiping by the San Marin goalie toward the goal's corner bar. San Marin's goal attempts faltered, either landing in the hands of goalie Patricia DePalma or sailing over the crossbar.
The team faces second-in-league Tamalpais on Thursday. No. 3 Redwood will also post a challenge next Monday. The defensive mentality that aided Tuesday's victory will again come in play during the looming MCAL showdowns.
"As soccer players, we're totally capable of beating both teams," Capitolo said. "But I'd say it's a mentality at this point: being confident in our play and always working for each other."