New teacher elevates annual dance show with 'Fresh Tracks'
In Alex Escalante's first performance as Branson's new dance teacher, this year's Body Talk — called "Fresh Tracks" — inaugurated a new era of dance at the school.
With lots of after-school preparation for the dancers, they had to build on Body Talk's already high reputation for the performance on Jan. 26 and 27. Escalante showed he was up to the task.
"He comes to class passionate and excited every single time," said Birdie Dillon, who dances for Branson. "He makes the dancing experience fun."
Body Talk was filled with many adoring fans. In the Jan. 27 show, the audience had to arrive right when the doors opened to find prime spots. If not, it was a scramble to find any open seats.
The sold-out show launched with an enthralling rendition of Michael Jackson's "Thriller," complete with a red jacket and steam machines.
"The opening really captured my attention," said Noam AuYeung, a senior. "I think there is a really great community aspect because the different [grade] levels collaborate."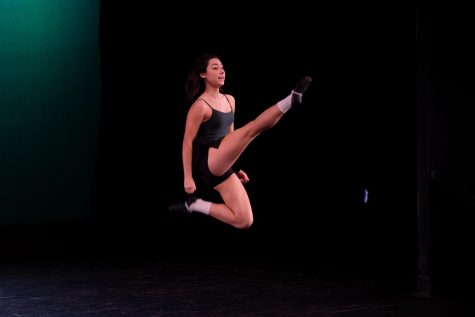 The show ranged from contemporary to hip hop. The range showed the skill and effort put into the performance, but the smiles from the audience and performers revealed love and passion behind the show.
Escalante "did a very good job utilizing the different levels," said Whitney Collet, who dances for Branson. "He really understands the dancers and how to help them." 
Body Talk showcased how Escalante values the kids' opinions and skills, his students said. He wants to hear how to best help the people around him.
"When we were planning out our dances, we sat in a circle and he asked us what our talents were," Dillon said. "He built our dances around those said skills."
That's why the performance even incorporated tap dances and a salsa. There was indeed a new spirit to the dancing in this Body Talk, and the performers credited Escalante's fresh approach.
"He is super positive," said Charlotte Johnson, a dance student. "He cares about us beyond just our dancing abilities. He is a person at Branson that cares for everyone no matter what."