If only for a day, school should let students join first-choice course
For one day in our two weeks of immersive courses, all students should be able to attend their first choices. 
Students picked their first choices for a reason, whether the immersive was on a topic they were especially interested in, a skill they wanted for the future, availability of delicious food or an activity with their friends. A "first choice" day would be especially helpful to students who wanted to be in an immersive that was removed.
The full-day, two-week program began on Tuesday. The classes "immerse" students in one particular subject of their choice.
Students had an extensive list of choices this year: 33 choices to be exact. The list included some returning favorites such as Poetry as Activism, African Drumming and Guide Dogs, but the majority of immersives were brand new. 
Unfortunately, in a school with fewer than 400 students, not all 33 immersive courses were filled. The Bible as Literature, Bay Area Freedom Trail and Instrumental Music courses didn't make the cut. Director of Studies Jeff Symonds said in an email that they "are not running this year due to lack of signups."
School officials had billed the Bible as Literature class as giving a "crash course in the most culturally influential book in [students'] lives," not only in literature but in societal norms that were influenced by the Bible.
People often study the major events of the 1960s civil rights movements that took place in the South, but the Creating a Bay Area Freedom Trail immersive would have analyzed the long march to freedom in our hometowns. 
The Instrumental Music Ensemble immersive would involve blend and contrast. All types of instruments and styles of music come together and create what the course listing called "a slightly different take on the world of sound."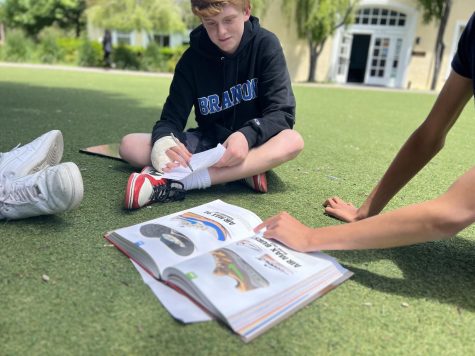 For many students, others' interests significantly affect the immersive selection process. It seems unfair that underclassmen with popular picks and students whose first choice wasn't popular don't experience any part of the class. 
"It'd be kind of a cool idea to do a split day," Symonds said. "I've already been thinking about that. What would it look like if there were some immersives that were half-day immersives that were paired with others?"
I asked him what he thought about each student simply going to their first choice immersive.
"That's an interesting idea," he said. "Just like a 'free pass' day. Have 250 people in 'Chocolate' for one day?" 
Some other plans for next year are in the works. 
"Trips are back for the first year," he said. "That's really exciting. So, maybe expanding the overnight possibilities." 
Some students told me they wanted a looser schedule, and others said they wanted more science-based courses.
Immersives are an excellent way to close out the school year, and Branson students are looking forward to them. This is only the second year the program has run at Branson, and many aspects will change each year to come in the near future.
"We're all wide open to iteration," Symonds said. "Making it better." 
Maybe next year we'll see an option to try out favorites even for a day. 
"I'm just thrilled by a) how well it's going, and b) how excited students are for it," Symonds said. "Enthusiasm for it is what's going to make it so great."