Branson officials: Measure to permit 'financial stability'
November 14, 2019
Branson officials say that a March ballot measure to allow consideration of a 100-student increase is the only viable way to stabilize Branson's financial situation.
Many current classes and programs are substantially under capacity, they said. Officials also say that the enrollment increase will permit Branson to have more competitive academic programs as well.
However, the measure only permits the Ross town council to consider such an increase. And if the measure is approved by voters and the town council permits the increase, the school would have to make several changes to school facilities, officials also say.
SCHOOL'S NECESSITY
Increases in operational costs, coupled with some classes under capacity, sparked the ballot measure, Branson officials say.
With more funding, the school also seeks to retain a high-quality teaching staff and grow its academic and extracurricular programs.
"Branson has been capped at 320 students since 1978, and basically, in the past couple of years, the school has realized that in order to really be a long-term institution and to sustain the caliber of classes, the variety of curriculum, and really retain great teachers, that it would need to basically increase its enrollment to provide financial stability to the school," said Hannah Arndt, campaign manager of Ross Residents for Branson and Branson alumna. 
Arndt continued to say that"operational costs have increased over the years, [the] high cost of living is a huge deterrent for faculty and staff, and so being able to provide really great teachers with really great compensation is an important goal of the school, and the school would also like to be able to provide better financial aid." 
Other comparable private schools have more funding for the breadth of programs Branson has, said Head of School Chris Mazzola. 
"We are the smallest of our peer schools, by about 80 to 150, and we want to be a top school and we have to offer all of the same programs as the other schools, with 100 less students," she said.
Ardnt then continued to say, "And as you probably know, a lot of our clubs, a lot of our classrooms, a lot of our sports … [don't have] enough students to sustain them,"
Branson officials said that the best way to get more funds is through increased enrollment. Though the school gets a significant amount of money from endowment — $1 million a year, Mazzola said — and the Annual Fund, among other fundraisers, it is not the most predictable source of income.
"Our development/advancement team does an awesome job of raising funds each year to make up the gap for the operational costs, but that's not necessarily the most sustainable, because it's dependent on generosity and a lot of other factors," Arndt said.
Another tool to increase funding, over the past few years, has been to increase tuition, which currently stands at $48,485. However, indefinite increases are not sustainable, Arndt said.
"In order to continue to make it accessible for many, [Branson] would not like to have to increase their tuition as much as they do every year right now, which I think a lot of people would appreciate," she said.
Branson's administration said that the increase in enrollment, and thus funding, will allow for greater income stability.
Regarding the school's current financial position, Mazzola said, "It's very stable, but we're very tuition-driven."
She added that the annual operating budget is $18 million. Tuition provides approximately $15 million; the difference is made up by philanthropy and endowment. Annually, 4 percent of the $26 million endowment is used, therefore providing $1 million per year, said Mazzola.
However, the measure will benefit the school beyond financial stability, Mazzola said. 
"It will also allow us to become more diverse, it will allow us to provide more programs that we currently can't provide, [and] it will allow us to pair teachers better, which is one of my biggest priorities, so those are all the reasons we decided to pursue it," she said.
ACCOMMODATING STUDENTS
Under the ballot measure, the Ross town council would be able to approve an enrollment increase of a hundred students, which Branson eventually seeks. A school analysis determined that the campus could accommodate that increase, Mazzola said, though the increase would entail several changes.
The school wants an increase of 25 students per year, eventually leading to 100 students per year.
"At 25 — we would do it gradually over four years, over five, maybe — so 25 kids, we don't need anything new. Fifty kids, we could use a couple of new bathrooms. Seventy-five kids, we start to need classrooms," Mazzola said.
Mazzola said that Branson plans to renovate the Old Dining Hall, near the library, into a study space. She also said the space may be divided into a maximum of six classrooms, preliminary plans suggest.
In addition, with the potential eventual enrollment of 420 students, the Commons would be too small to allow for all students to eat at the same time. Therefore, lunches may be staggered, she said.
The enrollment increase may also change the way students commute to campus. 
A bus dedicated to Marin may be added, Mazzola said, and student drop-offs may be farther from campus than current drop-off locations.
Why 100 students? With an increase of that size, the school day would still remain efficient by "100 percent," Mazzola said.
"And actually, I wouldn't want to be bigger than 420. I want everybody to be able to look at each other and know kids," she said.
The layered increase would inhibit any drastic changes, Mazzola said. "Doing it gradually, no one will notice the difference; you know, 20 kids added to a school over a five-year period, we could have 20 new kids here tomorrow and people wouldn't feel the difference."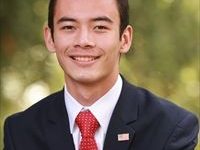 Shun Graves, Editor-in-Chief
Shun Graves serves as editor-in-chief and first joined The Blazer in 2019. He covers local government, transportation and Branson sports.