Branson Blazer music review: March 2020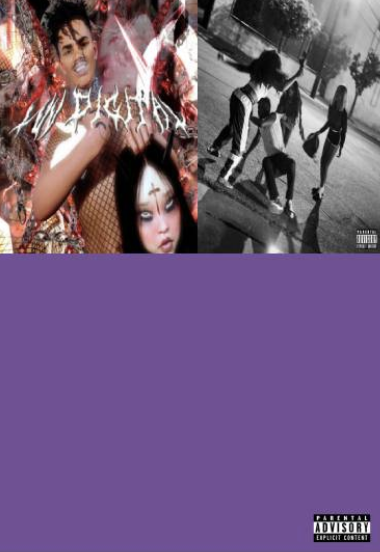 Hi Branson! As 2020 continues, we music fans are in for a loaded year. Music heavyweights such as Drake, Kendrick Lamar, J Cole and The Weeknd have all promised us albums by the time the year is up, and those records should make for some of the most interesting and divisive musical moments of the year.
What elaborate concept will Kendrick or Cole draw up on their new albums? How will Drake reinvent his sound once again on a new project? I'm looking forward to finally being able to share my opinions on all of these questions. However, unfortunately, these releases are still on the horizon, and we can only speculate as to what these records will sound like. So, for now, I've decided to put together a list of some of my favorite, less popular releases to share with you guys, and hopefully convince you to listen to something you may not have heard before. So without further adieu, here is a list of some of my favorite records of the last few months. 
Killval — Luv Digital EP
The genre of so-called "emo-rap" and its meteoric rise to mainstream popularity has been one of the most interesting musical storylines of the past five years. A breath of fresh air for many rap fans, it served to break down some of the machismo that is so deeply embedded in hip-hop culture. Instead of gun-toting, gangster manliness, these rappers opted to speak about heartbreak and drug abuse over traditional rap instrumentals. Although they were certainly not the first to take rap music in this direction, this generation of "emo-rappers" popularized the sound to a point in which it had never been before.
However, just as fast as their songs racked up millions of plays on Soundcloud and Youtube, these rappers began to drop like flies. Lil Peep died because of an overdose. XXXTentacion was murdered in his car in Florida. YNW Melly was jailed indefinitely as he awaits his trial for double-homicide. And, most recently, Juice WRLD suffered a fatal seizure in a Chicago airport.
In the wake of these tragedies, a new face in the genre has been Killval, who gained buzz on Soundcloud through some hot singles there, many of which appear on this new project, "Luv Digital." The backbone of Killval's sound comes from producer Nick Mira, who helped pioneer the melancholic and melodic instrumentals that popularized the genre. Mira provides some of his best beats here, too, from the piano-backed instrumentals for "Catch Her" and "Never Again." to the more up-tempo production for "Bloody Prada" and "Told Her (End!)."
However, this would not mean much if not for Killval's vocals, but they are very good here. His boyish voice fits perfectly over these beats and delivers memorable performances on nearly every song. Not only does he provide choruses that have ingrained themselves in my head, but he also gives us lyrics that are so over-the-top in their sadness that I don't know whether to laugh or cry.
Admittedly, this EP is not very varied in its sound, but it is brief enough that this lack of versatility is something that doesn't bother me too much. For anyone who enjoys sad, atmospheric trap music, check this record out. I wouldn't be surprised if Killval becomes a major face in rap music in the next few years.
Baby Keem — DIE FOR MY B***H
Of all of the records mentioned here, I imagine that this is probably the most well known. This is due in large part to the viral success of the album's lead single, "ORANGE SODA," which has become a Billboard Top-100 hit since it's release in 2019. However, I haven't seen this record gain much traction outside of that one song, which is a shame, as the album is quite good.
Throughout the 14 tracks and about 30 minutes this album lasts, Baby Keem hops between different genres with ease, and the Las Vegas native feels in his element on every song here. Whether he is delivering straightforward yet quirky rap tracks like "STATS" or "MOSHPIT," or slowing it down with more RnB focused songs like "HONEST" or "BULLIES," Keem exudes brazen confidence that only a 19-year-old such as himself could. On every song here, there is a district amateur-like vibe, and I mean that in the best way possible.
This album sounds like it could be a random mixtape that your neighbor forced you to listen to, but with the polish and creativity of a major label artist. There are no throwaway instrumentals or choruses on this record, and I feel that Keem trimmed this album down to its best songs, something that is rare to see from such a young artist. I fully expect Baby Keem's stardom to grow even further from here, and I can't wait.
Pi'erre Bourne — The Life of Pi'erre 4
Known mostly for his work as a producer for the likes of Playboi Carti and Lil Yatchy, Jordan Jenks, aka Pi'erre Bourne, took many by surprise when he released his major-label debut "The Life of Pi'erre 4."
However, those familiar with Bourne as more than a producer know what he has been rapping for some time now, with installments of his "Life of Pi'erre" mixtape series dating back to 2017. Now, with the backing of Interscope Records, He has delivered his first album, with production, writing, vocals and engineering all handled by Pi'erre himself. I personally really love when artists take this kind of hands-on approach to crafting an album, as I think it allows for complete artistic expression. Pi'erre takes advantage of this creative liberty and does the ambitious thing of having every song on the record flow and transition into each other seamlessly as if the album is one long, continuous song. I especially liked the transitions between "Ballad" and "Routine" as well as "Juice" and "Guillotine."
Now, if you are looking for a revolutionary album, this is not for you. It very much falls into the current trend of auto-tuned singing over melodic trap instrumentals, similar to the styles of many artists that Pi'erre has provided beats to in the past. However, I think that the album executes this style extremely well, even better than some artists who exclusively rap.
There are so many highlights on this record, from the wavy intro "Poof" to the dreamy "Doublemint" and the slick finisher "Speed Dial." There is also an abundance of relationship-driven ballads on this album, something that is new to the Pi'erre Bourne musical style. These songs include "Horoscopes," "Be Mine," and "Lovers." In addition to this, there are a few faster-paced songs like "Try Again" and the aforementioned "Juice" that break up what could have been monotony in the tracklist.
Overall, I enjoy this album and have played it more than I can remember. Like his role-model Kanye West, Pi'erre Bourne seems primed to use his unique blend of production and rapping to spring into the mainstream.