Live updates: Bulls face road loss to Monte Vista
DANVILLE — After victories at its season and home openers, the girls varsity volleyball team (2-0) faced Monte Vista (6-1).
The Danville team posed Branson its toughest challenge yet. The Blazer provided live updates throughout the game.
Live updates
Fourth set: 25-18, Monte Vista wins.
The fourth set began with an ace by Logan Tusher, and later another by Elena Fisher. But as with the previous sets, the score has remained tight. Unlike Bishop O'Dowd, Monte Vista has maintained a challenging offense into the fourth set that proved decicive.
Third set: 25-21, Monte Vista wins.
Branson's heightened energy has countered Monte Vista's offense, edging to a slight lead early in the set, with a kill by Elena Fisher and block by Logan Tusher. Yet the set remained tight. Monte Vista has paced the Bulls as the end drew near to this nail-biting set.
Monte Vista has posed the harshest challenge yet to the Bulls, testing Branson's defense with a strong attack.
Second set: 25-20, Branson wins.
A tighter start to the second set has the Bulls still facing a strong attack from their opponents. An ace by Lauren Dignan, two aces by Sadie Snipes and kill by Elena Fisher showed some promise in offense early. Yet defense against Monte Vista's middle attack has proved challenging. Back-and-forths at the net have often determined outcomes. Branson has acclimated to the low ceiling.
Offense came alive midway through the set as Branson pulled ahead, winning the set. Logan Tusher had eight kills and Fisher had three.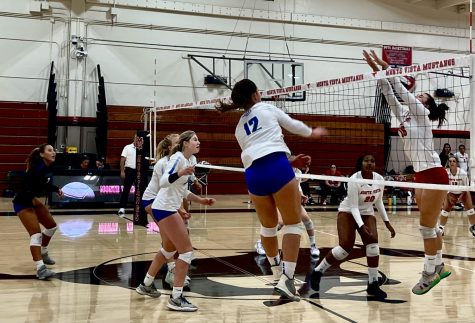 First set: 25-10, Monte Vista wins.
The Bulls had a slow start to the first set. A strong attack from Monte Vista has tested Branson's defense and offense — and a low ceiling didn't help. Offense picked up late during the set, but Monte Vista maintained its lead. As with its first two games, the team has had a slow first set.