Girls varsity tennis defeats Lick in 6-1 victory
As the fall sports season began to swing in full motion, the girls varsity tennis team defeated Lick-Wilmerding in a 6-1 victory Thursday.
Led by coaches Crissie Costamagna and Drew Mathieson, the team battled against Lick Wilmerding, a team Branson has a rocky history with. And after a biting loss to Redwood on Tuesday, the game would mark a return to form for a leading MCAL team.
Despite the past, the team had high hopes for themselves prior to the match. 
"As long as we keep our heads in the game, I think we will do good," Anna Rende, a junior, said. "We also have home court advantage, so it's in our favor." 
The game was off to a solid start for the Bulls. 
Some missteps by Lick-Wilmerding led to fast points by doubles partners Tara Sridharan and Gaby Steele, bringing them quickly up a set. They were able to continue to capitalize on Lick's mistakes in the second set, giving them the 2-0 victory.
"Gaby had great groundstrokes and I was doing well with serves," Sridharan said. "Our teamwork was really important as well, and we had to communicate and work together as a team to win."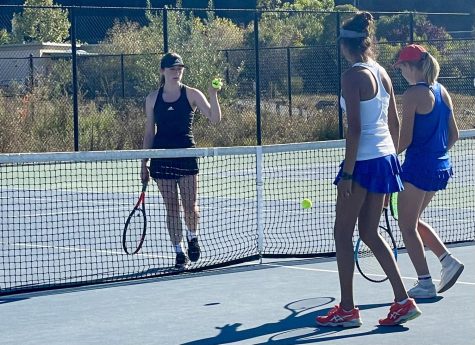 Meanwhile, after fighting back and forth early in the first set, Audrey Gilmor, a sophomore, changed the pace of the singles game and took the first set 6-3. This moment snowballed and carried into the second set, which she won 6-0 to give the team another 2-0 match win.
Confidence at the net allowed for juniors Laila Elkhoury and Emma Casaudoumecq to get an early lead and eventually win their doubles match.
"I'm very proud of the way we played," Elkhoury said. "We were in control the whole match."
Assistant coach Drew Mathieson hailed the victory as a signal of growth; given its size, the team had split into varsity and junior varsity teams this year.
"I was really happy up and down the lineup with how everyone played. Today demonstrated that everyone is really improving." 
Elkhoury called the coaches a vital facet of the successful game.
"Drew and Chrissie have been a big part of our victory as well. They helped us stay focused and gave tips to us, so we could play the best we could."