Bulls face foes old and new at Stockton tourney
STOCKTON — Familiar foes and an MCAL preview greeted girls varsity volleyball at the Varsity Stockton Classic.
The nearly 10-hour tournament Saturday had Branson face St. Ignatius, Monte Vista, Redwood and Amador Valley. Missing outside hitter Elena Fisher and setter Logan Tusher, the team nonetheless wielded a powerful offense. In the end, Branson ended eighth out of 12 teams at Bear Creek High School.
"We have a really deep bench, so we were prepared to go in and play our best, even without them," outside hitter Sadie Snipes said.
Win against St. Ignatius
Branson may not have faced St. Ignatius this season, but the name still rings familiar. That's because libero Dylan Whisenant transferred last school year to Branson from the San Francisco school. The Bulls defeated St. Ignatius in two sets, 25-22, 25-20.
"It felt really good to go up against people I've played with and have competed with," Whisenant said. "It just felt incredible to beat them and know that I made the right decision."
"
We were able to have a lot of energy, which was fun, especially because of how early in the morning it was."
— Sadie Snipes
St. Ignatius began the first set with a lead, but Branson quickly pulled ahead. Snipes made seven kills as the Bulls' offensive formula fell into motion, though St. Ignatius kept a persistent defense. But Whisenant got the last say that set, making an ace that clinched it for Branson.
"I think we really clicked as a team," Snipes said. "And we were able to have a lot of energy, which was fun, especially because of how early in the morning it was."
The second set saw St. Ignatius again scrapping for balls, but to less success than during the first. Successful blocks by Margaux Barber and Eva Lacy, plus an attack helmed by Snipes, kept Branson ahead. Whisenant made another ace, ending the set with another win.
"It felt great, mostly because of Dylan," coach Michelle Brazil said. "We played great, and it was really fun to watch us click."
Monte Vista redux
Branson's first loss of the season came at the hands of Danville's Monte Vista. The Bulls came close to avenging that defeat in a tight first set, but lost momentum during the second to drop the game 23-25, 11-25.
The first set saw a similar offensive effort as in the previous game with kills from Snipes and Cayman Stein. Yet a powerful attack from Monte Vista's left kept it a couple points ahead. In the end, that lead amounted to just two points.
"We thought we had it on that first set," Brazil said. "And I think the disappointment rolled into the second set."
The offensive momentum slowed during the second set as the defense struggled to counter Monte Vista's attack. Recalling the first set of the Sept. 2 game, Branson faced a double-digit point deficit as Monte Vista revved its offense. When the Bulls made a dig — like a big one by freshman Kaitlyn White — it often resulted in offensive success. But it didn't happen enough to overcome the deficit.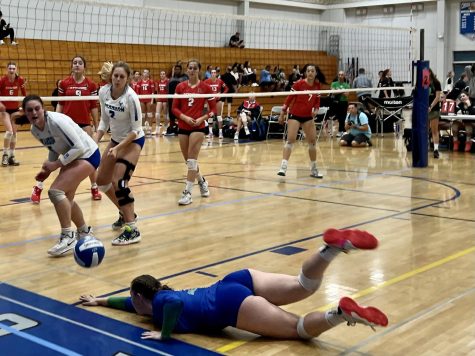 Redwood preview
To conclude regular-season play next week, Branson faces Redwood, which ranks first in the Marin County Athletic League. Bracket play had the two MCAL adversaries duke it out, with Redwood winning the game this time. For Branson, it meant a 26-24, 12-25, 7-15 game.
Snipes again made seven kills during the tight first set. Redwood paced the Bulls with a powerful, if predictable, attack. The lead bounced between the two, until a dig by Whisenant and kill by Snipes pushed Branson forward. A couple kills by Snipes later, Branson clinched the set at 26 points.
Momentum again slowed during the second set. Unforced errors kept Branson behind a steady Redwood offense, disrupting the offensive formula that had worked earlier.
"It's about being disciplined," Brazil said. "It's just making sure you're not crashing and running all over the place, instead of just being stopped when the hitter's hitting."
And despite another offensive drive during the third set, with kills by Snipes and Anna Palfy, Redwood came on top to win the game.
"It's so much fun to play against an entire team where you know everyone," Lacy said. "But I'm still really excited for Friday. I'd rather go into it as the underdog than being too cocky."
A one-set finale
The clock neared 5 p.m. as Branson and its final bracket opponent, Pleasanton's Amador Valley, remained as the only teams still awaiting action in the gym. Officials granted a proposal to make this a one-set game. And so the final game of the tournament began against a team Branson hadn't played this season.
Amador Valley kept up a persistent defense as Branson fell behind early in the game. Though the Bulls improved the deficit to three points midway, Amador Valley persisted in returning balls and making digs until Branson made an error. The Pleasanton team won the one-set game, 19-25 for Branson.
"Everyone was feeling really, really tired, but you couldn't tell that from our energy," setter Celia Tolmie said. "We weren't able to execute at our usual level in the end, but that just came to physical exhaustion. That didn't come down to our energy at all."
Before Branson faces Redwood next week, the team will play San Rafael, ranked seventh in the MCAL, at home. It will mark the last time the team's seniors play at home court.
"It's still their last time playing in the gym," Lauren Dignan said of the seniors. "It's trying to make it special for them."