Live updates: Redwood defeats Branson in tight game
LARKSPUR — In a decisive game to cap off the regular season, Branson girls volleyball faced a four-set defeat at Redwood Friday evening.
Redwood entered the game standing at first place in the Marin County Athletic League, having defeated Marin Catholic earlier this season. Branson, fresh off a win against San Rafael, could take that title depending on the result of today's game.
The Blazer provided live updates throughout the game. Read the full game analysis here.
Live updates
Fourth set: 25-11, Redwood wins.
A kill by Margaux Barber inaugurated the first set. Redwood retaliated with an at-the-net attack. A kill by outside hitter Elena Fisher, then a Redwood error, had the Bulls pull ahead at five points. But Redwood quickly tied the point. Its Emma McDermott has led some of Redwood's blocks. Branson's unforced errors have continued. Tusher makes a setter dump after one by Redwood surprised the Bulls.
Redwood's middle attack powered some of its latest points. Yet Barber made a kill down the middle. Unforced errors have often determined who wins a set, and Branson has seen more this set. Missed shots and blocks by the Bulls kept Redwood ahead. Redwood made an ace to clinch the set.
Third set: 25-20, Redwood wins.
A setter dump by Logan Tusher again begins a set. Redwood, however, has kept up with some strong blocks. But middle hitter Margaux Barber made a block that tied the set at four points. Redwood pushed back with some kills, but Elena Fisher makes a kill. Unforced errors from Branson kept Redwood ahead halfway. Yet some errors by Redwood narrowed its lead.
Attacks by Redwood have gotten through the Bulls' defenses. Another setter dump by Tusher precipitated a Redwood error. Yet unforced errors by Branson kept Redwood leading. Errors by Redwood ultimately reduced its lead late in the set, but it wasn't enough for Branson.
Second set: 25-21, Branson wins.
Two setter dumps by Logan Tusher begin the second set. Redwood maintains an attack that challenges Branson's defense. Some intense rallies have kept this set close as well, though Redwood led early. Two kills by Elena Fisher, plus another setter dump by Tusher, have exploited holes in Redwood's defense. A kill by Sadie Snipes, plus some errors from the other side, ended Redwood's lead at 13 points.
A play-by-play second set continues halfway. Redwood surprised Branson with a setter dump, but the score remains close as Redwood makes three errors in a row. A dig by Lauren Dignan helped Branson's offense gain another point, and an ace by Dylan Whisenant, playing libero this set, tied the set at 21 points. Then an attack by Fisher pushed Branson ahead. A setter dump by Tusher had Redwood make an error, adding to the Bulls' lead. After a critical dig by Whisenant, Redwood commits another error. Branson wins the set.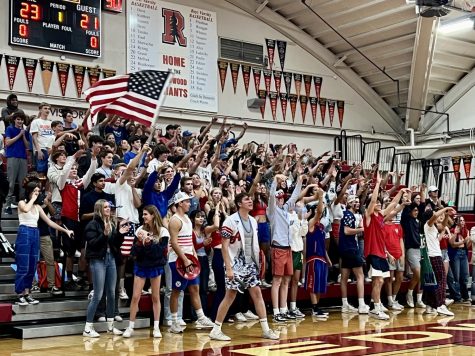 First set: 25-23, Redwood wins.
A tight start to the first set. The Branson offense has started with kills from Sadie Snipes and Eva Lacy, plus assists from Logan Tusher. But the attack from Redwood's Jaden Hendrickson and Emma McDermott, plus some effective blocks, has kept the Bulls on their toes. A full house on both sides has ramped up the energy.
The count halfway still remained close. Snipes blocked a kill attempt from Hendrickson, but Redwood got the next point. A string of kills by Redwood boosted its lead. Kills by Elena Fisher and Cayman Stein showed the persistence of the Bulls' offense, and the defense has shown some promise with some critical saves by libero Lauren Dignan. Redwood has shown it's most effective at the net, with critical blocks that have provided its lead.
Two more kills by Snipes then one by Fisher late this set have kept the scoreboard close. A kill by Lacy reduced Redwood's lead to one point, but the Bulls' MCAL foe won the tight set with a block.