In NCS semifinal, Snipes sisters face each other for final time
It began in the middle of an age-old rivalry.
Archie Williams' Elsa Snipes received Branson's serve to kick off the first set of the teams' NCS semifinal Wednesday night. Her sister, Sadie Snipes, had served the ball. But the serve would mark the beginning of another big moment: the last time the Snipes sisters faced each other for high school volleyball.
"It's kind of the end of an era," Richard Snipes, their father, said. "Elsa's a senior. Sadie's a junior. So their high school careers are coming to an end, especially for Elsa."
The game — a 25-14, 25-22, 25-17 home win for Branson girls varsity volleyball — marked the culmination of a nearly decade-long journey. Elsa Snipes, then 8 years old, and her sister, then 7, started with volleyball camp. Nearly 10 years later, the sisters, who often play together for beach volleyball, faced each other as opponents for the final time.
"It's a funny feeling to actually go head-to-head, instead of playing together, which is what we usually do," Elsa Snipes said. "I feel like it's less competitive between us two, and it's more that we just want the best for each other."
Rare moment's last call
The sisters have had few opportunities to face each other on opposite sides of the court. Archie Williams faced the Bulls only twice this year, including Wednesday's North Coast Section Division III semifinal.
"It makes it more special, because we're not going to get to do this very often, especially after tonight," Sadie Snipes said. "We both don't want to take that for granted."
Both sisters, as outside hitters, play the same offensive position.
"Because we're both playing the same position, we're never matched up against each other," Sadie Snipes said of her sister. "But it's still fun to see her go out and play really well and ball out."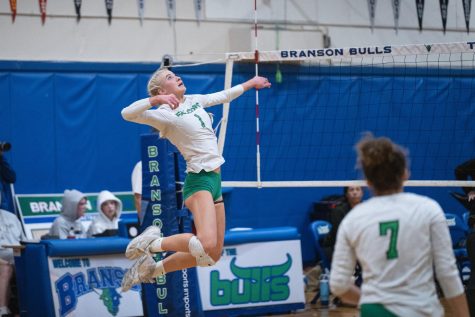 Such a dynamic played out from that initial point. Sadie Snipes made some critical digs, leaning into a defense that carried Branson to its double-digit lead during the first set. Elsa Snipes, meanwhile, made several plays around the court, from jumping for a spike to angling for a dig.
But the sisters' offensive edge became clearer in the second set. Elsa Snipes took the offensive mantle, making kills that boosted Archie Williams to an early lead. Branson had to recalibrate, and the set remained tight to the end. Sadie Snipes, along with outside hitter Elena Fisher, powered some of the set's kills — and the team's response to Archie Williams' attack.
"We had a game plan for what we were trying to do," Branson coach Michelle Brazil said. "But in terms of her reading Elsa, no one better to do it than her."
Elsa Snipes did the same for her sister. But she recounted a tough shot that her sister made.
"It's a deep, high over the line," she said. "I just thought, I'm ready for that. Then she shoots that. And I'm like, well, that's Sadie."
A "nostalgic" culmination
By the third set, both teams' offensive formulas had settled in. Elsa Snipes, who had just logged a best-ever 34 kills at Archie Williams' quarterfinal against Terra Linda, made several more to lead Archie Williams' offense. Her sister, along with Fisher, jumped for some critical spikes and blocks. And Branson's defense, which had lagged during the previous set, picked up with some on-the-floor digs by Dylan Whisenant.
When Branson's Eva Lacy tipped the ball over the net for the last time, the first-seed Bulls had secured a spot in the Saturday final against San Francisco's University High School. It also marked the final episode of a rare moment.
"It was nostalgic," Elsa Snipes said of the final time she faced her sister. "I kind of like letting her have the win. It's something that she should have as a younger sister, and I hope the best for her going forward."
The game marked the sisters' final showdown on a high school court, making the head-to-head offensive matchup perhaps the game's biggest highlight.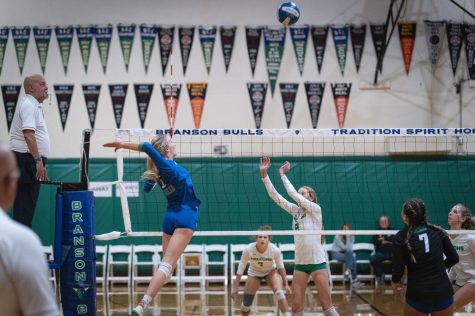 "I'm just excited to see them being fearless when they play," Mara Snipes said of her daughters. "They're just trying to play their best, and they're going for it and not holding back."
Beyond the competitiveness, however, each sister wishes the best for the other, Richard Snipes said. Call it a rivalry or not, but the support often overshadows the competition.
"To see them playing against each other, you can just tell looking at each other that they're rooting for each other, even though they're on opposite teams," he said.
Through it all, from the disruptions of the COVID-19 pandemic to Sadie Snipes' injury early this year, the sisters have supported each other, both on and off the court. Sadie Snipes credited her sister for helping her return to the court — to games like Wednesday's final matchup — after the fracture.
"Having her there for me and supporting my recovery meant the world for me," said Sadie Snipes, who returned to beach volleyball courts this summer. "I can attribute a lot of my performance this summer to her."