Offense makes splash as Branson advances in NorCals
When a Central Valley team edged slightly ahead during the first set Tuesday, girls varsity volleyball had to find a way around its playoff opponent's middle attack.
Then, Branson's right hitter Eva Lacy spiked in a kill and outside hitter Sadie Snipes made some calculated serves that logged two aces. An eight-point streak later, the team had built a comfortable lead. In the end, the Bulls had advanced to the second round of the Division I regional playoffs after the 25-18, 25-10, 25-20 win at home, defeating Turlock's Pitman.
"We sped up the set to the right side, which threw me off in the beginning," Lacy said. "But a lot of times, I would swing line, especially when there was a middle backer."
But the Bulls' offense during that first-set streak came alive from the very first play. Foiling Pitman's middle attack required flummoxing the team's passing mechanism — which depended on Branson's serve. That critical task went to Snipes.
"They were shifting around who was passing and putting people who wouldn't normally pass or receive in the back row," she said. "Those people became the targets. It was really just about trying to target whoever was freshly subbed in."
Snipes' serves put Pitman's receivers off-kilter, buying time for Branson to prepare a thunder across the net. Aside from Snipes' aces, outside hitter Elena Fisher powered the team's streak with a string of spikes. The Bulls had reclaimed their early lead, winning the set seven points ahead.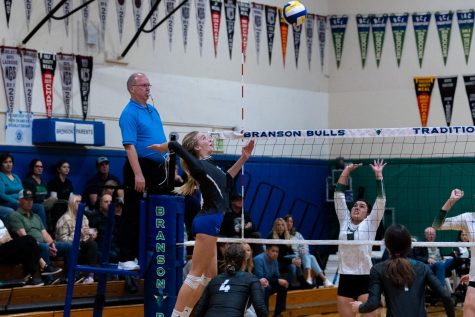 Serves again served as a scoreboard boost during the second set. Setter Logan Tusher powered an early 9-0 lead with three aces, and Lacy contributed another kill. As Branson powered ahead, Maya Lehman, a freshman, hit the court and made a kill to make the set 22-7. A spike from Snipes and a tip from Tusher late that set counted toward a double-digit set win.
Branson's offense again had to figure out how to bewilder Pitman as the third set tightened. After Pitman edged to a two-point lead halfway, Tusher aimed a defiant setter dump toward the opponent's floor. By the time she made another setter dump, Branson led 18-16. Some critical digs from the defense, plus spikes from Snipes and Lacy, pushed the Bulls ahead to another set win.
Tusher and libero Lauren Dignan each racked up 14 digs; Fisher contributed nine digs and nine kills, coach Michelle Brazil said. And Snipes led the offense with 11 kills, building on her defining performance at Saturday's NCS final.
"We're getting the ball to her a little bit farther out, so that she has more offensive range," Brazil said of Snipes. "When she has that ball in her sweet spot, she can put it wherever she wants it."
The Bulls' offensive momentum could carry into Thursday's second-round game. No. 13 Salinas upset No. 4 Amador Valley in four sets on Tuesday, setting up another home playoff game for No. 5 Branson.
And as it enters another round of playoffs, the team will continue bonding, both on and off the court. One tradition — the pregame team dinner — holds particular importance, Snipes said.
"It's just really fun to get a couple hours of time to spend with your teammates and to just get a lot closer. And get in that headspace of one unit before the game."