Live updates: Branson wins Division I NorCal final
STOCKTON — Girls varsity volleyball defeated No. 3 St. Mary's Tuesday for the Division I NorCal final, and the team now heads to the state championship.
No. 5 Branson enters the game having again defeated Marin Catholic in four sets, and as the smallest school ever to make the Division I regional finals. St. Mary's comes off a come-from-behind five-set win against the second seed Saturday. The winner of today's game advances to the state championships in Orange this Friday.
The Blazer provided live updates throughout the game. Read the full game analysis here.
Live updates
Third set: 25-20, Branson wins.
Elena Fisher spikes in a deep kill as she continues an offensive spree. Dylan Whisenant makes an ace. Fisher has seen the most success today with angling thundering spikes deep into St. Mary's turf. She's also pushed past St. Mary's blockers. And Cayman Stein pushes a kill down the middle. Though St. Mary's has pushed some persistent blocking, its attack and serve errors have taxed the team. Barber spikes in a kill to pace St. Mary's. Whisenant tallies another ace.
Stein pushed Branson ahead two points with spikes. Tusher makes a powerful block, then Stein adds another point. Stein has made an impressive showing as middle hitter today with a spate of winning spikes. Tusher counts another block to add to Branson's tally. Sadie Snipes makes a deep spike, then Eva Lacy makes another.
Snipes makes a spike to seal the set. Branson, the Division I NorCal champion, heads to Orange County on Friday for the state championship.
Second set: 26-24, Branson wins.
Sadie Snipes again spikes in Branson's first point. Yet St. Mary's has pushed some spikes of its own to boost it on the scoreboard early. Middle hitter Cayman Stein claps back with a spike, and then another. The Bulls' defense has made some errors as St. Mary's sits ahead two points. But right hitter Eva Lacy hit a spike down the line, and Margaux Barber pushes one down the middle to pace St. Mary's. Stein makes another spike down the middle; an attack error by St. Mary's tied the score at 14.
Elena Fisher spikes in a kill at 15 points, but it remains a play-by-play. Another spike by Fisher keeps the score tight. Snipes, Stein and Fisher have powered Branson's spiking mechanism. Snipes spikes across the court for another kill. Lacy spikes in a kill as Branson stands one point behind St. Mary's at 22. Fisher spikes deep to push Branson a point ahead. But St. Mary's ties the next point.
Fisher responds with another spike. Branson clinches the set on the next point.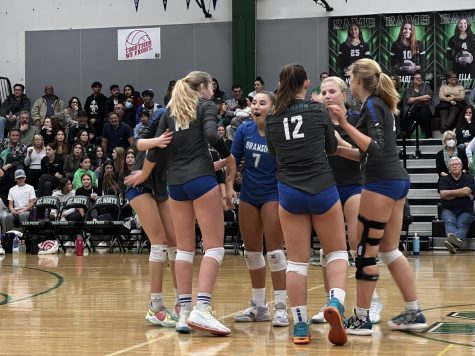 First set: 25-18, Branson wins.
Outside hitter Sadie Snipes spikes in Branson's first point. St. Mary's counters with a strong offense but gives away points on errors. Snipes makes another spike to boost Branson's lead, then Elena Fisher serves an ace. Another ace by Fisher pushes the Bulls' lead to six. Cayman Stein spikes in a kill from the middle. Branson's rallying offense has set into motion. Logan Tusher makes a setter dump.
We're seeing St. Mary's make some errors as Branson keeps up its lead. Libero Lauren Dignan has made some critical digs to power the Bulls' offense. Fisher spikes in a kill to sustain Branson's six-point lead and makes another ace. The gymnasium's low ceiling has contributed to points — for both teams — like a seventh player. St. Mary's has made several attack errors, plus some missed serves.
Snipes spikes in the set point.