Time for state: Branson clinches Division I NorCal title
STOCKTON — When outside hitter Sadie Snipes spiked in the game point in Tuesday's Division I regional final, nothing went through her mind at first.
Then she turned around. Libero Lauren Dignan gave her a huge hug, and it was official: Girls varsity volleyball had clinched the D-I title for Northern California. Branson defeated St. Mary's in three sets, 25-18, 26-24, 25-20. The team will head to Orange County on Friday for the state championship.
"It is honestly surreal," Snipes said. "We're making history. Not just Branson history, but also high school volleyball history. And that's just so cool."
The Bulls' offense rallied to put down the Stockton foe's blockers. While Snipes and Elena Fisher found success with deep spikes from the side, hitter Cayman Stein posted a banner performance that exploited St. Mary's weak middle.
"My timing was right," Stein said. "I was able to see where the other middle was in my peripheral vision and swing where she wasn't."
Her down-the-middle spikes proved instrumental in rescuing Branson from a scoreboard deficit during much of the second set. Fisher and right hitter Eva Lacy made deep hits to pace St. Mary's, but when the Stockton foe pushed strong blocking on the court's edges, it came down to Stein to make the kill.
"It gave Cayman a nice, huge hole to do her thing," coach Michelle Brazil said of the blocking. "It gave us a little bit of a leg up going into set three."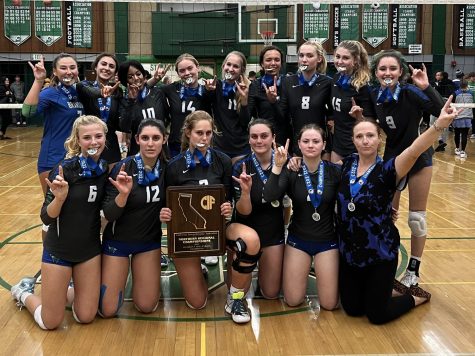 That middle attack proved vital both during the come-from-behind second set and throughout the game. Fast setting and the unrelenting middle pushed Branson's offense to pull ahead of St. Mary's during the first and third sets. Defense, helmed by Dignan, had to maneuver around a low ceiling that at times seemed like a seventh player to make digs and power the Bulls' offense.
And though St. Mary's successfully deployed a tip attack early, the team focused its attack on spikes as the game wore on. As Branson's defense warmed to the opponent's lines of attack, the offense also found success with deep spikes from the outside.
"They had a lot of trust in their block," Fisher said of St. Mary's. "Just going high off the hands and into the deep corners either created chaos or just a lot of good opportunities for us."
Those spikes helped Fisher lead the offense with 14 kills. Snipes tallied 12 kills and Stein made 10. Dignan led the defense with 21 digs, and setter Logan Tusher made 53 assists.
After defeating No. 3 St. Mary's, No. 5 Branson now heads to Santiago Canyon College in Orange for its first-ever Division I state championship appearance. Though the program regularly appeared in the Division V title game through 2015, a subsequent change meant schools made divisions based on performance, not size. That means Branson will enter the title game as one of the smallest schools ever to make it to D-I state and to clinch the D-I NorCal title.
"I'm just so proud that we've gotten here," Brazil said. "We've come such a far way."
Branson, this year's MCAL and North Coast Section Division III champions, will face Palos Verdes, the second seed from Southern California, on Friday. The next day, another Marin team, Archie Williams, will compete at the Division III state title game after sweeping its NorCal final. That means Branson's Sadie Snipes and Archie Williams' Elsa Snipes will both play at state.
"I am so incredibly happy for her," Sadie Snipes said of her sister. "This is going to be her last match ever playing indoor, so that's really special and I'm glad that I get to be down there and enjoy it with her. And I'm just so happy that this is something we can do as a family."