New faculty speak about their first months at Branson
Neftaley Arceo is a new history fellow this year. She teaches ninth grade Modern World History, as well as Native American studies. She is also a leader of the Latinx affinity space. 
She worked a bit in public health before realizing she missed teaching. She wanted to teach in an environment that wasn't traditional. She was looking for a more student-led approach. When she came to Branson, she could feel the close connection between teachers and students. 
"I saw how everyone was engaged, it was a small community, and I felt that sense of community." 
When teaching, she loves seeing the way that students think and grasp the material. She likes seeing student growth and nurturing that growth however she can. 
"I feel like I'm always learning something new from students and that's something that I really enjoy." 
Arceo's favorite subject in history is social movements. She has done a lot of research on the Chicana movement and some on the Red Power movement. 
"Chicano studies and Native American studies as a whole are a huge passion of mine." 
She is a huge sports person and loves basketball. Her favorite team is the Los Angeles Lakers, being from Southern California herself. She is very excited to start getting involved with going to Branson games, especially basketball. 
"You will catch me at a lot of basketball games this season." 
Arceo also has a passion for sneakers and building Legos. She displays the Legos on her desk, and they will change throughout the year as she completes new ones. 
"I'm in the process of building one right now so I'm excited to swap them throughout the year." Arceo adds, "I see other students that have shoe game, and I have identified them and I'm looking out for their shoes as well."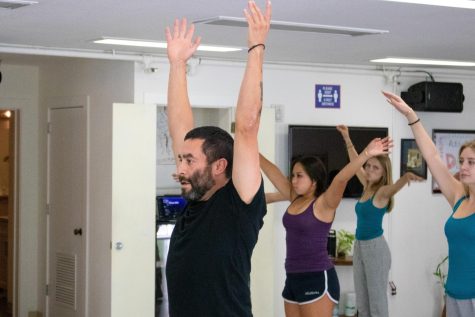 Alex Escalante is the new dance teacher at Branson. Much of his inspiration for pursuing dance came from his high school dance teacher. 
"His name is Don Bondy. And if it wasn't for him, I wouldn't have pursued this career," Escalante said. "I had danced through middle school, but I started taking it seriously in high school. I went to an arts high school in Los Angeles and then went on to college for dance, because of [the] mentor I had in high school, who really inspired me to pursue it." 
Escalante wants to pass on this mentorship and help students find their passion for dance. 
"Seeing the look and smile on the faces of my students when they attain a certain objective or reach a level of understanding where they're not just executing the movement, but they're going beyond that. They're getting to a place where they're enjoying themselves and forgetting about the actual steps in the choreography," Escalante said. 
Before Branson, Escalante worked with a nonprofit serving underprivileged youth in San Rafael called Project Avery. 
"We were serving children with incarcerated parents. I developed and managed a mentoring program for this organization and wore many other hats there. I was also doing summer camps. I would teach dance, theater and archery." 
One of his many passions outside of his dancing and teaching duty is gardening. 
"I have really taken to gardening and caring for the growth and health of plants in my garden at home. Also growing food for my family, vegetables and different herbs. I didn't go to school for it, but I really enjoy doing it. [I] make sure that there's greenery around me at all times," Escalante said. 
Escalante also supports the soccer club Arsenal. 
"Several decades ago, when I started supporting them, [Arsenal] was one of the first Premier League teams that had a Mexican soccer player in their ranks. I support the Mexican national team because my family's from Mexico. So when they gave a chance to a young Mexican upcoming football star, that's when I started supporting and following them," Escalante said.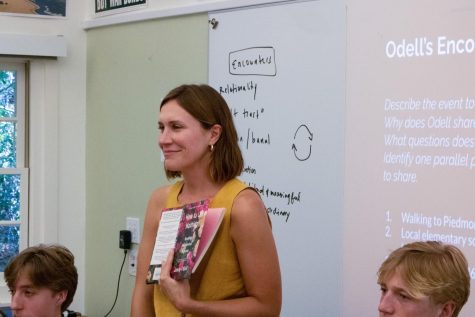 Alanna Hickey is a new English teacher at Branson. She teaches ninth grade English and the Poetics of Place elective. She is also a part of the Eco-Committee and White Women's Ally group. 
Hickey values the "slow, careful engagement" that comes with interacting with literature. 
She has a passion for poetry, having studied 18th and 19th century poetry for her Ph.D. Among Hickey's many favorite authors is Ada Limón, and she recently began reading her newest collection. She views poetry as a "beautiful key into cultural, social issues."
Outside of the classroom, Hickey spends her time outdoors exploring local landscapes like Mt. Tam and Point Reyes. Along with her love of nature, she reveals that she has trouble hiding that she is a birder. "I keep coming up with references that are about, like, the distinct patterns of behaviors of crows." 
Having joined the Branson community from a university setting, Hickey especially admires Branson's "intentionality behind the way that we conceptualize our beloved community." 
As an English teacher, Hickey cherishes the moments in her classroom when everyone is "invested in a common conversation with each other." 
As one of the newest additions to Branson's faculty and staff, Hickey describes herself as a very excitable and enthusiastic teacher.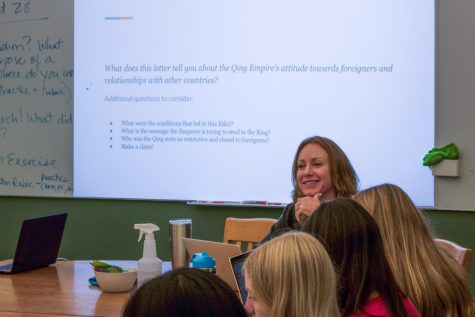 Talia Di Manno (Dr. D) is a new history teacher this year. Currently, she is teaching ninth grade Modern World History and two first-semester classes called Ethics and Justice and the Soviet Union. Next semester, she'll be teaching Old Religions and Public Discourse. 
She describes herself as a perpetual learner, and loves teaching because she views it as a two-way education. "I'm learning from my students just as much as they're learning from me." 
She relishes history and teaching her students how it connects to the present. Her favorite historical subject to study is the "intersection of the history of religion and the history of science." 
She says she is something of a world traveler and has developed a curiosity about other people and places. 
She is fluent in Italian and has lived in several different places. She has settled down in Italy, Sri Lanka and India, and spent some of her childhood in Puerto Rico. In addition to traveling, she also loves hiking, running and going to the beach with her family. 
So far, she is loving her time in the Branson community, especially appreciating the mission and drive of the school. "I'm starting off this job with a really wonderful impression of Branson students."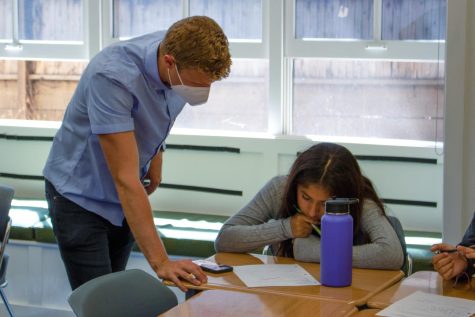 Drew Mathieson, also known as Mr. Math, is a Branson math fellow and assistant coach of girls varsity tennis. 
Outside of his teaching duty, however, Mathieson spends lots of time in nature. 
"I am an avid outdoorsman. So I love getting into the backcountry and doing hiking trips." 
In fact, Mathieson recently completed a 25-night rafting trip down the Colorado River and through the Grand Canyon.
 "I have [also] been leading backpacking trips back east, so that's kind of a big out of school passion of mine," Mathieson added. 
Before Branson, Mathieson worked at a startup in Palo Alto, working in the data science division. Before going to university he attended Branson and even believes that some of his experiences at Branson inspired him to become a teacher. 
"When I was a student here at Branson, I tutored eighth and ninth grade math, which was a super fun job. I started realizing [that] I kind of enjoy it," Mathieson said.
Mathieson also credits some of his early teaching experiences to being a counselor in the very camp he used to go to. 
"Working as a summer camp counselor for many years and just having that space be a really comfortable, happy place for me was really enjoyable. Working with kids gave me a lot of energy, gave me a lot of joy and was very fulfilling," said Mathieson.
Mathieson also touched on how he loves when concepts become clear to students and they reach that "oh, I get it" moment. 
Overall, however, Mathieson expressed one thing clearly. "I'm very excited to be back," he said.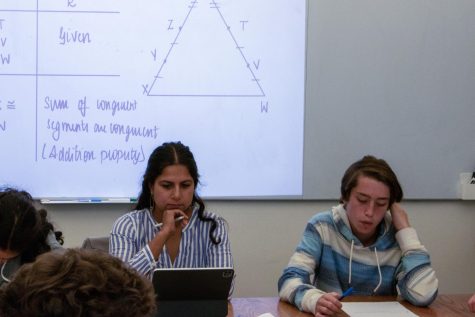 Gayatri Ramesh is the new math department chair and teacher at Branson. 
One of her many passions include tennis. When Ramesh was in college, she was a Division I tennis player. Originally from India, Ramesh went to school in America first going to a small university in Tennessee and then getting her Ph.D. in applied math from UCF.
After a brief stint in finance, Ramesh found herself as a teacher at the Phillips Exeter Academy, a high school in New Hampshire. 
Now at Branson, Ramesh has taken up woodworking during her spare time, making a table and a couple of benches. 
So far, "nobody has fallen off," Ramesh said, as the structure still holds strong. 
As far as teaching goes, Ramesh says she loves watching students solve math problems. 
That starts with students just feeling the problem out. As "students interact with the problem that they're doing," Ramesh said. 
And then comes the "aha! moment." 
This process of problem solving is one of the many things Ramesh says she gains great satisfaction from in her teaching.